Why Me? (Miraculous Ladybug)
March 9, 2016
As I looked back at her, I remembered the song she sang me:
Let's go in the garden. You'll find something waiting.
Right there where you left it, lying upside down.
When you finally find it, you'll see how it's faded.
The underside is lighter when you turn it around.
Everything stays.
"Mom?"
I cried.
"Is it you, is it really you?"
I was sobbing.
"Yes, It's me."
She smiled kindly.
I started to run after her.
We were inches apart.
She opened her arms...
"Mom?"
The alarm clock went off.
And I woke up, with tears in my eyes.
The photo of her, on my nightstand, was ripped. Glass was everywhere around the room. I was frightened.
I checked the drawer where her ring was. The silver ring was the last time she gave to me. If anything happened to it, I would not be able to live with myself. 
The ring was gone.
But the letter from my mother, before she vanished, was still there.
There was writing on it.
Little butterflies play by day,
Black moths kill at night,
White as snow
Dark as death.
Let your sadness go.
I will take a bite.
Who could do such terrible things to a innocent boy?
Why me?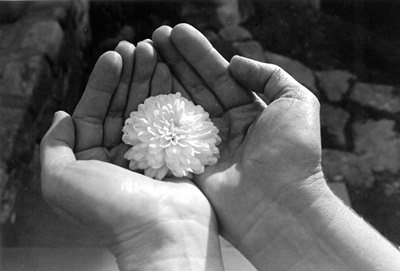 © Beth S., Marblehead, MA