Revealed (Miraculous Ladybug)
March 1, 2016
"You can't!"
He yelled at him.
"You can't leave me like Mom did!"
He was weeping at the bed, arms crossed.
"You will have to continue my legacy."
Replied the father.
The heart monitor was beginning to beep slower.
"What legacy?" The boy asked.
"I need you to collect the-"
The father began to shut his eyes.
"What legacy? Please, father! Tell me!"
The boy was still weeping.
"Collect the earrings of-"
The father stopped speaking.
It was clear that talking was painful for him.
The boy opened his eyes wide.
He was very shocked because he knew exactly what the father was talking about.
"Good bye, my boy."
The father took his final breath.
The boy was weeping before, but he stopped.
If anything, now he felt outraged.
Furious.
Beyond words.
His father was the one.
He was the one behind everything.
And do you know what the boy did after that?
He ran out of the door and rushed down the hospital hallways.
He rushed through the enterance and out onto the streets, not even thinking about the death of his father.
The boy ran all the way to the bakery, and collapsed at the door.
She opened the door, hearing the loud thump.
Her face turned several colors as she recognized the exhausted blonde haired boy.
"What are you doing here?" She asked the boy.
"I-I need to tell you something." The boy barely said.
"Wha-what is it?" The girl blushed.
"I know who my father is."
"What do you mean?" The girl was confused.
"He was the one after Ladybug and Chat Noir."
"Really?" The girl was shocked. She didn't know that her crush's father was her enemy.
"And," said the boy "I needed to show you something..."
The boy lifted his hand, the one with the ring on it.
And the transformation began in front of her eyes.
There, standing in front of her, was not Adrian, but Chat Noir.
She was shocked.
Stunned.
And breaking apart from joy.
"So..." said Adrian.
She decided.
If he revealed his identity, so should she.
"I also have something to confess." She calmly replied.
She transformed in front of him, seeing his shock.
The boy was startled to find out who the love of his life was.
"So, you're Ladybug?" He commented.
"Yep." They were both struggling to remain calm.
"Well," the boy said. "At least we don't have to worry anymore..."
And thats when the pan dropped onto the ground, scattering the cookies onto the tile.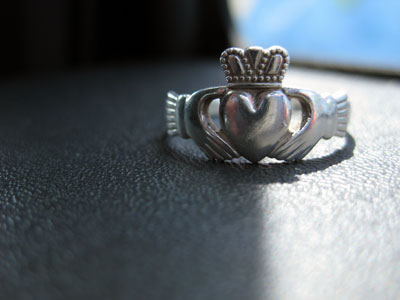 © Kaelyn L., East Northport, NY