The Truth About Cinderella
May 13, 2015
Although this is the fairytale of Cinderella, it didn't actually end "happily ever after," well at least not for anyone except Cinderella. She took the real story and twisted it. None of us are evil or bad, we never made her a slave, and we most certainly never locked her in the attic. I'm going to tell you the real story; my name is Anastasia, and my sister's name is Drizella. We were the so called "evil stepsisters." Cinderella portrayed us as cruel and malevolent, but we were just two normal stepsisters.
It was just mother, Drizella, and I after our father had passed. Life was peaceful and calm with just us three. That was until mother started dating someone. This guy was nothing special; we did not understand why mother had so much interest in him. He looked like a poor, disgusting old man if you ask me, but she might have seen something different. They had been dating for a while when mother called us in the room to tell us she was getting remarried and we would be moving in to their dwelling shortly. Drizella and I were in utter shock. We thought mother would never remarry, but we were wrong.
Before the wedding, we were all stunned to find out he had a daughter around our age. Everything had been turned upside down; we had another sister we met just days before. It was hard enough having one sister, now I have two to live with. We barely knew this girl and not before long we would all be living together.  I guess she was not that bad, she was just kind of an odd girl. Mother finally got married and then we all lived together. Most of the time Ella's father was not there, so life was kind of how it used to be. The only difference was, there was one more sister and it did not feel like home and I doubted that was going to change anytime soon. Mother was acting a little different, it might have been because she just got married or because she had a new daughter now, but it was strange.
A couple years after mother got married, Ella's father unfortunately passed away. Ella was devastated so we all tried to show empathy because we all knew how it felt.
Ella said, "You guys are so rude to me and you don't understand what it feels like to not have your father when growing up!"
The sad thing is, we did know how it felt… it was all too familiar to us. We then told Ella, "Our father passed away when we were young so we have been raised by only a mother. We know exactly what you are going through, but we want to be here for you."
Ella replied, "Thanks but no thanks. I can handle this on my own. I don't need your gushy fake sister 'so called' caring attitudes!"
We gave up trying to help her while she was grieving, so her life was not the best by choice.
A few years passed by extremely slow, but luckily there were not many issues, as everyone did their own thing. One day we received an invitation from the palace saying there was going to be a grand ball so the prince could finally get married and everyone was invited. Ella was always rude to all of us, but of course she was extremely nice to mother because she wanted her to let her go to the ball. She did not have nice dresses like what women wear to a ball, so she tried to be nice so mother would give in and buy her one.
It was the day of, and mother did not buy her a dress; she was disappointed that she could not go. I felt truly bad for her because she was not able to go, but that was not stopping the rest of us. Mother insisted that she should still help Drizella and I get ready for the night. We finally arrived at the ball; I felt bad that Ella could not come, but it was not my decision. The prince was so charming and striking. I could hardly look away. This stunning young lady with an exquisite bubblegum blue dress caught his eye and they were practically inseparable for the night. She looked so familiar, but I could not tell where I had seen her before.
The clock struck midnight and the elegant young lady ran out of the ballroom away from the prince, and everyone else for that matter. As she ran away she lost one of her glass slippers and ran into the darkness of the night. Shortly after, everyone started leaving the ball to return home. The next day the king had made an announcement saying the prince would marry the stunning lady who had lost her glass slipper at the ball; they had every single lady of the town try on the slipper to find the beloved soon to be princess. A couple days later, they had been to about every dwelling in the area and they still had not found her. They arrived at our house and we rushed to open the door; we all knew our feet were gigantic and could never fit in the puny little slipper, but we still gave it a shot. First, Drizella tried it on, no luck. It was my turn; I hoped and wished that my foot could magically shrink to fit the slipper, but again, I had no such luck. Mother didn't bother trying it on and claimed there was no one else that lived in the house.
Just as they were leaving, Ella ran down the stairs screaming, "Wait! Wait! I didn't get to try it on yet!"
The guard looked furious with mother because she swore no one else lived there; but we were positive it would never fit her because she never even attended the ball. She sat down and he proceeded towards her foot. He then slipped the shoe on; it was a perfect fit.
Mother, Drizella and I all yelled, "What? How is that even possible? She never even went to the ball!"
The guard replied, "Well she must have because this shoe is a perfect fit. No one in this kingdom has feet as small as hers."
She was thrilled to find out that now she would be marrying prince charming; everyone in the kingdom was envious. As the wedding came upon us, Ella was now known as Princess Cinderella because it sounded better than Princess Ella. She got her prince charming and the happily ever after ending. For mother, Drizella and I the ending was not so great. We fled the kingdom, wanting nothing to do with anyone from the kingdom. Princess Cinderella acted as if she never even knew who we were so we split our own ways and never went back.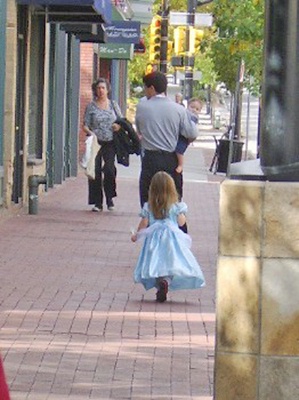 © Kristen T., Tulsa, OK