homelessness
January 13, 2012
She sits in a warm bundle against the building. Her eyes wilt as she presses her right cheek further into the bumpy, concrete pillow beneath her. Her paper cup has long blown away without any coins to weigh it down. It drifted away with the wind from the swift strides of the city walkers. Her stillness cannot hush the city. She doesn't dare lift her eyes to see more than the feet of every passerby. The faceless figures walking by glance down and dismiss her as a lump of blight on the sidewalks rather than as a woman curled beneath an oversized black coat.

The woman barely sits up anymore; her face would be too visible to world. She peers from under her coat and watches people saunter, linger and skip by her. She recognizes people bumping into each other, their feet unexpectedly touching and stumbling left and right, trying to choose which way to go to break free from the collision. She knows when a couple is breaking up when two sets of feet face each other, slightly step back and forth, and then abruptly turn in opposite directions. She knows when an excited little girl gets the peanuts she loves from the corner vender by the twirling and jumping of her feet. The woman squints her slits of sight just enough to feel free of her lonely life but also to maintain a steady view of the people hurrying around her.

She scrawls on the back of a piece of cardboard, recording every pair of shoes she could later use as an escape from her coat-blanket and window-headboard. While taking note of each shoe's appearance, she is able to slip away from her gum stained bedroom and into fantasy worlds of each passing person.
The pair of mid-calf, leather cowboy boots with inscribed designs of flowers across the toes leads her to an open vineyard in Southern California. The sun beats down on her and bakes her dark hair into searing strands. She lies in the grass, pulls handfuls of green from the ground and rolls back and forth to brush over the gentle blades sprouting from the sod. Her small, orange and white patterned cat sweeps its tail over her face and walks toward the house where the woman follows and takes a seat in the old Adirondack rocking chair where she looks out at her hard-earned acres. As she rocks back and forth, she hears a muffled sound of metal clanking, four quarters tossed at her face wake her from her daydreaming.
The money-thrower wears black leather dress loafers, barely scuffed on the sides. The woman envisions herself married to this man, his monetary generosity lures her and she finds herself sitting on his leather sofa, a cashmere blanket draped over her shoulders. He pours her a glass her favorite wine and sits beside her, rubbing her legs and stroking her arms. She rises from the couch, turns on slow music and reaches for him to join her in a dance. Twirling from room to room, she feels wanted and cared for. He pulls out a bouquet of flowers and the smell encircles her with satisfaction. She soon becomes aware of a new flower vendor that has wheeled his cart directly in front of her with a scent that overpowers that in the apartment. He tells her to, "Move out of the way before my customers are scared away by that face of yours."
She slips into her coat, chin against chest, dutifully staring at the ground, and heads blindly down the block. She stops under an old bridge and dips her bare feet into the puddles gathered in the depressions of the road. Up a few more blocks, she finds a pair of tattered flip-flops tossed onto the side of the street. She slides her newly washed feet into the shoes, lifts her eyes, and moves forward in her own reality.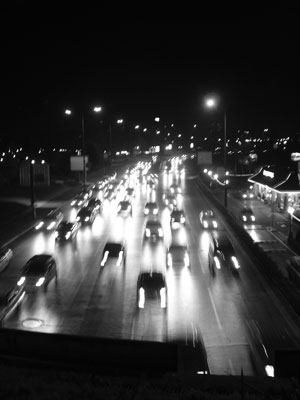 © Marietta S., Pleven, Bulgaria