Little Red Riding Hood
October 26, 2011
Little Red riding hood was on her way down the path to her grandma's house.She was too careless and was getting distracted by everything else.Her mother had warned her to stay focused and don't wander off the path.Yet what she didn't know was that the big bad wolf was stalking her!

He sat in waiting for her to keep walking,his eyes lit with excitement every time she walked closer to the edge of the trail,hoping she would cross into the forest." Who's that I see walking in these woods?Well it's little Red riding hood!", he kept saying softly.Suddenly his ears pricked and his eyes got wide as he spotted his oppertunity.He couldn't resist any longer!He leaped out in front of her staring into her shining bright blue eyes.She gasped in surprise and took a step back.

"Hey there little Red riding hood,you sure are looking good," he said in a soft tone as he circled her.His tail curled around her." You're everything a big bad wolf would want!" he said softly grabbing her face between his half dog hands.Red riding hood turned away and he let out out a low growl."Listen to me!" he snarled before continuing." Little Red riding hood I don't think that little big girls should go walking in these spook old woods alone." he said looking into her eyes.

She looked at him with a cold stare as she pulled away, "Get away from me!I'm not supposed to talk to strangers!" she huffed angrily.He let out a howl.Yet then he reached out and grabbed her by the waist pulling her close. "What big eyes you have.The kind of eyes that drive wolves mad." he whispered softly in her ear,his foul,hot breath stank. "So just see that you don't get chased.I think I ought to walk with you all the way.What cold lips you have,they're sure to lure someone bad.So until you get to grandma's place I think you ought to walk with me every day." he continued as he loosened his grip to see her eyes.

She began to struggle again but he knew she couldn't get away so he continued. "I'm gonna keep my cheap suit on until I'm sure that you've been shown that I could be trusted walking with you alone." Suddenly Red riding hood stopped struggling and looked up at him. "You mean this whole time you've only wanted to walk with me?" She asked staring with a blank expression.He put his finger on her lips to quiet her down. "Little Red riding hood,I'd like to hold you if I could but you might think I'm a big bad wolf so I won't.What a big heart I have,more better to love you with.Little Red riding hood,even bad wolves can be good.I'll try to keep satisfied,just to walk close by your side.Maybe you'll see things my way before we get to grandma place.Little Red riding hood,you sure are looking good.You're everything a big bad wolf could want." he finished with a smile,his white teeth glinting in the moon light...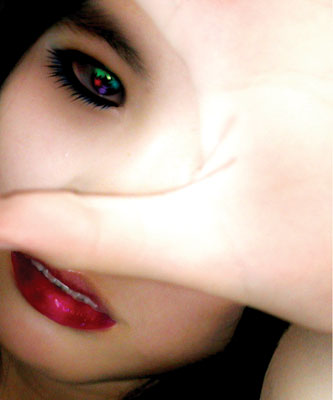 © Victoria W., Arcadia, CA