Never to Neverland
January 29, 2011
She knew she would never see him again. She knew that there was no use in waiting up late at night for him, as she did many nights during her childhood. He, along with many of her other childhood memories, had no place in the hectic world she currently lived in.
Every night for as long as she could remember, Peter had come to her, and they had gone on magical journeys to distant lands where they battled fierce pirates and befriended magical fairies. Wendy, being a young girl at the time, genuinely believed that there was great magic in the world, however, as she grew older, she came to realize that her life was not in fact, made up entirely of these carefree moments, but disappointment and broken promises would soon become a major part of her life as time weaned on.
Wendy shuffled into her dimly lit apartment and heaved her heavy load of plastic grocery bags onto the cluttered kitchen counter. She opened the refrigerator and looked for something to drink. She had forgotten to eat lunch that day. Like most days, Wendy's boss had left a pile of paperwork on her desk and she begrudgingly flipped through the various stacks of paper, sorting and filing, completing the same monotonous task her job required of her day after day. Wendy worked as a secretary at an office building in downtown Manhattan. She spent each day in front of a dimly lit computer, in a grey cubicle, wearing her grey pantsuit, and following orders from her impatient boss. She had grown up and left her dreams and fantasies of childhood behind, something she swore she would never do.
Wendy uncapped a bottle of lemonade and walked into the living room where her two sons were lounging in front of the television playing video games. The games were violent and filled with angry people doing angry things. She winced as she stood behind her two young sons and watched as they loaded machine guns and fired at passing cars and other characters on the television. She convinced herself that this was just a game. She thought back to when she was a young girl, and realized that all of the carefree moments she spent with Peter were also a game, and as she soon found out, all games must come to an end.
She glanced back at the television and the flashing lights on the screen read GAME OVER. Wendy knew her sons had not yet finished their homework. Every day after school, she knew that the first thing they wanted to do when they got home was play video games. It was getting late, but she suggested to her boys that they go outside and play for a while until dinner was ready. She realized that a good parent would make sure her children finished their homework before allowing them to play, however, she simply wanted her sons to enjoy a few carefree moments of childhood before time passed by too quickly.
They responded with grunt, and trampled into their bedroom to watch television. Wendy let out a sigh and wandered back into the kitchen to prepare dinner.
She had not seen Peter in many years. The last time he had come to her bedroom window, Wendy was seventeen, and she was getting ready to go out with some friends for the evening. She was shocked to see him. Wendy admitted to herself that she had actually forgotten about Peter, for it had been many years since they had gone on a journey together. She remembered how she had lifted her bedroom window, and with great annoyance, asked him why he had come. She instantly felt sorry for snapping at him, and she could tell that her harsh words had hurt him. He asked her to return to Neverland with him, just for one night, where they could forget about all of their troubles and life would be as it was when Wendy was young. She bluntly told him she was too busy to go, and that she had much more important business to attend to. She felt badly for hurting him, yet, she was not a child anymore, and she wanted him to realize that she had grown up.
She knew in her heart that he was ashamed of how the world had changed. Nobody ever had any time to appreciate the simple things in life anymore. The easygoing way of life that Wendy had enjoyed so much as a young girl was suddenly taken over by a fast-paced and hectic routine, and Wendy yearned to break free. Her sons, who spent very little time enjoying nature, as Peter had taught her to do so many years ago, were more interested in playing with the latest technological gadgets, and she was very disappointed that her boys were unable to experience the many childhood adventures that she had shared with Peter as a young girl.
He had come back last night, in her dreams. Wendy had found herself thinking about him, while at work, in the supermarket, and while watching her children waste their precious youth away in front of a television. Wendy dreamt that she opened her window and let him come inside, like she had done so many times as a young girl. He saw the many electronic gadgets strewn about the room by her sons. She told him that she wished her own two children could have experienced the adventures that she and Peter had shared many years ago. He told her that she looked differently, much older. He of course, had not changed a bit. He had promised her many years ago that he wouldn't. She was overcome with guilt when she remembered that she had made the same promise, yet obviously failed to keep it. She was very young at the time, and didn't realize how quickly life would pass her by. Many times, she told him, she had wished that she could go back to a the much simpler time in her life, when technology was obsolete, and when she could simply fly out of her bedroom window with Peter, and the two could go on fantastic adventures. He persuaded her to follow him, and they could relive these adventures in Neverland. But before Wendy could answer him, Peter had disappeared; he had dissolved into thin air. Wendy awoke, and as she suspected, Peter was not there. She looked around her cramped, cluttered apartment, and turned off the blinking lights on the muted television. She went to her window. As she stood looking out at the night sky, there were many thoughts buzzing through Wendy's mind. She told herself that her life was worthless, and except for her two sons, whom she loved very much, she believed that there was really nothing else in her life worth living for. Wendy wished she could simply put her life on pause, and restart this hectic whirlwind whenever she pleased, like her sons did with their videogames.
Wendy reflected the many times when she and Peter would simply fly away to distant lands return before daybreak, and during those times, she did not have a care in the world. She knew that there really was no room for Peter or any of her other childhood memories in her hectic life.
However, Wendy promised herself, if Peter Pan did come to her bedroom window late one night, she would not send him away. Wendy promised herself that she would abandon the many worries of her frenzied life for one night, and cherish this special memory before any more precious moments of her life passed before her eyes.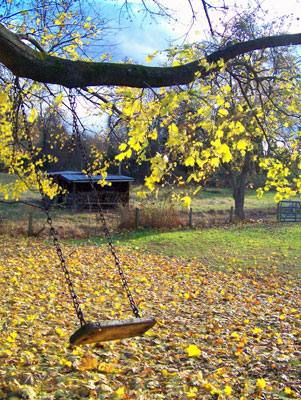 © Margaret G., Hillsborough, NJ