The Darkness of Space
April 23, 2018
I fly toward the sun. Never reaching it, but always getting closer, closer, closer... Then I turn around and reach my arm toward the moon. I grab it. Pulling myself closer... I jump.
I fly toward the stars. I'm flying through the stars.  I fly into the stars. I push away the atmosphere and feel the cold of space. A cold that's colder than death itself. Then I burn. I'm in the star, feeling myself defrosting. I begin to melt.
In liquid form I leave the star, my body free from physical confinement. I slip out from the flames back into space. I fall like a teardrop falls to the floor, the total darkness engulfing the essence of my existence. In the cold of space I begin to solidify. Curled into a ball for warmth and comfort, I fall deeper and deeper into the nothingness.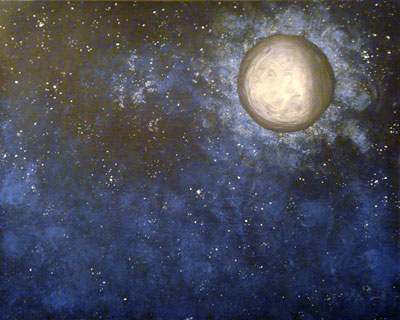 © Allison H., Vancouver, WA