Just me
April 11, 2009
I looked in the mirror and I just stood there for 15 minutes looking at myself wondering all the things I should have fixed. I didn't find myself pretty. I've always wanted to be like those girls at school. But I never could be like them because I was frumpy and ugly like those girls told me all the time. I tried everything in my powers to make them like me being nice to those girls or sharing my lunch.
But One day changed it all from me not wanting to even think about them or be them. I used to take the bus to school every since morning with Tasha Mac. The Leader of the popular click of kids. Sometimes we got a seat next to each other and we would have Small talks about everything that was going on in school then Things that was going on in my life. I didn't understand why she would talk to me on the bus but during school she would act like she didn't know my name.
During lunch I would sit with my best friends Rachel and Kelly. If we got out of fifth period early enough we would get a table across from Tasha and Her Friends. While Staring at Tasha I tried to wave at her just to see what she would have done. Shockingly She waved back and smiled and all. Then she pointed toward me and all of sudden her friends started laughing.
I knew in my gut. Tasha told her friends about me being heavy-set or the way I looked I couldn't help it.
I told my friends Rachel and Kelly to watch my book bag while I went to the bathroom to freshen up for the next of my classes. As I went into the bathroom I went into the stall first. I heard click, click it sounded like the noise of someone wearing heels. As I left the stall a girl grabbed me by my hair and pulled it so hard and slammed me against the door. As I tried to run out I noticed the door was locked.
I cried and cried and asked the girls what did I do but I knew I didn't do anything I just tried to befriend Tasha. The girls didn't reply back to me when I asked them.
I dropped to the floor after being slammed against the bathroom wall and door. The two girls just started kicking me and hitting me with their hands.
Once I left the bathroom I went back into the lunch room where I saw my book bag on fire and Rachel and Kelly trying to put it out. I turned around to ask Rachel and Kelly what was going on, but then Tasha came from be hide me and Set my hair on fire. As I screamed in pain she just stood there and laughed. A teacher aid in the lunch room put me out but as soon as I was out I fainted on the ground. I and My mother choose to press charges against Tasha and her friends who jumped me in the bathroom. The Judge asked Tasha and her friends what they had to say nothing came out. But After that Day I finally believe I was pretty and myself I didn't need any group or anyone to tell me that. I knew it now and I believed it for once in my life. For once in my life it felt good to be in my skin and be me. It was just me.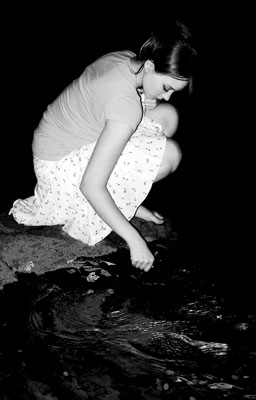 © Michelle B., Blairsville, GA