Ways to Live
September 9, 2017

It has been two years, well, at least that's what the fish told me on his way back to his wife and kids. I still sit in the nothingness that I let take me a while ago and I never contemplate trying to escape because I have learned my lesson, and accepted the fact that this was it. Sometimes it gets lighter and then back to dark, I think it's the day and night, but i'm not sure. My hair waves around, and every once in awhile it catches in the rocks that surround me...but De-ye-de comes to help….He's not so bad after a while, or maybe i'm just as bad as him..I'll never know….and I don't want to know, because he's the only friend I have anymore…

What happened to you? I heard a voice that sounded an awful lot like Kiley...I honestly don't know I answered back and my bod just lifted and dropped in the current, and I flowed with the water, wondering if I shouldn't try to fight for Kiley, Chasity, Amber and everyone I knew that loved me……My thoughts went adrift and my mind begin to create an alternate reality filled with those I love. They sit down, talking, sharing stories of their pasts, laughing, smiling, hugging. This reminds me of the first time this happened, and….I made a promise to Angie…..My arms yanks upwards and free's the chains around them. I grab at the seaweed around my legs and pull them apart and wiggle my feet out of the remainders of the water-grass .

My hands push the water behind me and I can just barely see the sand that belongs to the beach. Faster, Faster, Faster, The chains rise grabbing at my legs, but not catching. One arm in front of the other, switch, switch, switch. I'm almost there, just a little more. I inhale a little water and it slows me down as it's moving through my lungs, escalating the pain I am already in. The chains close in, but it's too late for them because my head pops out of the water and my lungs deflate pushing the water out and a coughing fit took place after that.

I layed down on the sand, beaten and exhausted , but alive. The sky is gloomy like it knows the pain i'm going through. Amber appears above me and i'm not sure if it's an illusion or not. Her hand grabs for mine and she pulls me up into a hug and a sob escapes her throat. I'm sorry I said with an uncertainty that I really was. I mean, don't get me wrong, I was happy that she was here, she's like family, like the big sister I never had. She held my shoulders at arm's length, and I could see the hurt I had caused her. "I'm sorry." The words fell off my lips and I can just barely see a smile creep upon her face, "It's not your fault, everyone goes through hard times." Her voice was shaky and I could tell she wasn't mad, though she should be. "What about everything i put you through?" My voice was questioning hers. "Girly, your perfect the way you are and don't ever doubt that." "sometimes things get a little tough But that's what i'm here for, to help you through it all." "So whatever happens promise me that you will stay with me here." "I know it's not the safest place with all this hatred but i'm always here, you know that."

I was speechless for a moment to let the words soak in. A strong breeze pushed at me and my hair swayed along with the voices in my head. "OK, I will….I..I will stay here with you." She smiled innocently as a tear rolled down my cheek.

"Ah, Ah, Ah," "Not yet my love." De-ye-de's demon-like body accumulated in the breeze, as He stood beside me with a wicked grin and a impatient look in his eye's. He walked closer, and Amber became very defensive. De-ye-de grabbed something out of his pocket, and lifted his hand up. It was my late grandmothers necklace. It was a gold heart with a picture of me when i was five in it. "Don't you forget that little girl okay?" De-ye-de looked me in the eye, and I realized as Golden wings began to materialize. He was my Angel. "Now, I don't want to see you under that water again, Okay?" Amber and I both smile. "Okay." I said with a wide eyed smile. "You won't." Once again everything went white, but this time It would stay white.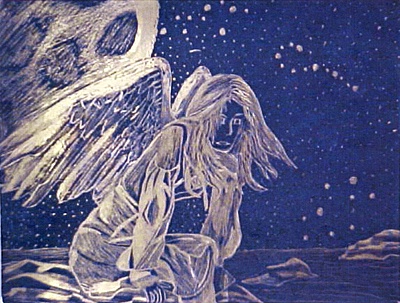 © Kaylen C., St. Clair, MI