The Little Seamstress's Journey
May 11, 2016
What happened to the Little Seamstress as her mind was affluent with countries such as France and ample cities like Marseilles? Countries built upon more than just mines and coal; cities where knowledge blossoms like a white orchard moving in the spring breeze. Regions where culture was permitted to flourish, and where people's words rolled as smoothly off their tongues as on written text.
The Little Seamstress wandered throughout the serpentine paths of Phoenix Mountain, being careful not to ruin her white tennis shoes with the surrounding mud. The cold wind bit her face, and a sweeping raven taunted her with its gleaming eye. As she looked around, her thoughts drifted towards her father. She trembled as the sweeping image of his disappointment flew across her mind. She could see his piercing eyes, black like the ravens that circled around her. To know that she ran away from a bountiful house, a widowed man, and two boys that loved her in every way a woman should be loved was like feeling one of the sorceress's silver arrows pierce her chest.
Along her way she spotted a flat, round stone to sit on. The thoughts shifting across her mind and the soaring heights were compiling themselves into a dizzying vertigo. The Little Seamstress laid herself over the stone and looked at her feet. She wiggled her toes in the unfamiliar shoes, remembering the day Luo had shown her the resemblance between their feet. The memory made her smile, and the delicate wind blew her red ribbon across her face. She felt the soft silk caress her cheek as she slowly pulled the ribbon loose from her hair.
As the ribbon blew in the wind, the Little Seamstress thought more about the two boys who had cherished her in all ways. A black raven flew over her head, free of all ties from the ground. Was the Little Seamstress going to be free if she left? Would she be able to preserve the wildness in her eyes, the calm in her manner, the crashing emotions that moved her world like a small fishing boat in the middle of rough seas?
No.
She let the ribbon fall from her hands, and rose from her seat. What was the city? Is that where true happiness would lie? Balzac may have taught her to value herself more, but also that, "True love is eternal, infinite, and always like itself. It is equal and pure, without violent demonstrations: it is seen with white hairs and is always young in the heart" (Balzac). More than anything, the Little Seamstress wanted to be loved. Tears fell upon her crumpled shirt as she thought of Luo's smile, her father's hugs, and most of all, Dai. She started running back to memories of love and faint kisses she could almost grasp upon her lips. The wind blew across her face, cold and delicious. It tangled its cold fingers through her straight, silky hair. A smile crept along her face as she felt everyone's love for her. She would be loved, and give more love in return. With this final thought, she was a white, voluminous cloud over the sun.
It would have all gone well if the Little Seamstress hadn't slipped and died.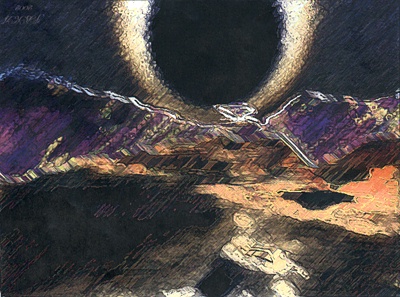 © Jason B., Colorado Springs, CO