My school holiday
April 14, 2016
         Last school holiday, my family and I went back to our hometown, the eagerly-awaited holidays bring a respite from homework, lessons, extracurricular activities and exams. For me, spending a holiday at home is equally unbearable.
        
         On the last day of school, I eagerly waited for the bell to ring at 1:30 p.m..Then, I felt like a caged bird hat has just been set free. I slang my bag over my shoulder and make my way to my dorm to pick up some bags to bring home. I waited for my mother for a couple of minutes. Finally, she came. I put my bags in the car and hoped in. In the car, my mother told me that the whole family is going to our hometown. I felt very excited because I missed my hometown very much. When we got home, I quickly packed my clothes so that I won't be rushing the next day.
        We started our journey early in the morning. When we arrived, we had a quick lunch. I make a short exchange and headed for my favourite spot at my hometown. A secluded corner of my grandfather durian orchards. There under a shady spot, I sat down and enjoyed the peaceful surrounding.
          Here is one of the places that made me feel relaxed, I enjoyed the solitude of nature. As I took my seat on a wooden bench, and took a glance around, I can see a flurry of activities. Birds flew and sang sweetly above me while two squirrel ran from a tree to another, colourful butterflies flapped their colourful wings and ants scurry in a single file carrying bits of food on their backs.
            A cool breeze blowed. I can hear the soft rustle of leaves. The air is heavy with the scent of grasses coupled with the scent of ripe durians. I can't wait to eat durians if there's some at home. I hope so.
            I lied on my back with my hand behind my head and watched streaks of sunlight filtering through the canopy of leaves. Soon I fall into short but deep slumber. When I woke up, I can see the sun slowly descending behind a row of far hills. Although I would love to linger for a little longer, I moved away reluctantly and leaved knowing that my grandparents and family would be waiting for me.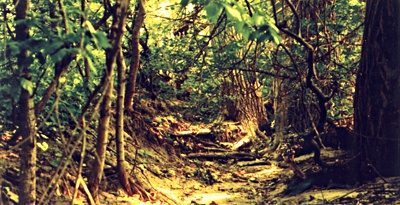 © Dan B., Papillion, NE