Ariel's Sacrifice
January 30, 2014
His hand is like ice. I try to warm it with my cool, clammy skin. The air is cold and sticks in my throat. The breeze blow's my red glossy hair into my mouth and eyes. The cold frosted sand is wet and seeps into the folds of my white skirt.

I stroke Dylan's skin with my fingertip. His face is like a Prince's face; Low cheekbones over deep-set green eyes, bowed shaped lips that pucker and purse when he's angry with me.

He wont ever get angry with me again.

His ears are cold and I clasp the bow of his ear to warm it up. He shivers and looks up at me. his eyes are an emerald green with so much fire. The outer edges of his eyes are a light blue and fade into an evergreen. Rays of sunshine peek out from between the blue and green. I give a small smile. I wrap his scarf around his neck, tighter. "There. So you can stay warm." I purr.
His black hair is sticking to his face is clumps and I run my hand through it making it stick up in cute little tufts.

"It'll be OK, now, Dylan. I promise. We can be together…. forever."
I lean down and kiss his forehead and his strangled cry is filled with grief. Or fear.

"Don't be scared. Please. Don't be scared…." My stiff cold fingers fumble for the ends of the scarf, desperately. "If you get scared then so will I." His emerald eyes are wide with fear. His brow is furrowed over his eyes.

I have always liked his nose. Its long and straight with a few bumps in the center. I kiss those bumps now, my lips pressing to his cold shivering skin. His shoulders are shaking. My long slender fingers thread through the knitted holes in his black and gray scarf. His purple lips part and a strangled noise escapes form between his mouth.
I kiss those too.

His lips are cold and taste like the sea. Salty. Warm. His breath is hot as it enters my mouth. I pull away and his teeth are clacking together.


"We'll always be together. I promise."
I pull on the scarf, tighter and tighter. His breath catches in his throat and I kiss his the soft spot under his earlobe.
"My prince." I purr. "We will…" I lean in closer as his eyes roll in his head. "Be together." One more time I thread the scarf around his neck. I pull tighter and it tucks up under his wrinkled chin. His head is limp in my lap. His chest hitches and his fingers stop clawing at the air. His hands slap back to the earth, and his chest stops rising and falling.

The water makes a slight lapping sound. The breeze blows my hair and the freezing water taps Dylan's boots, clawing at them.


She's hungry.

I get back down on my knee s,brace my hands on Dylan's shoulder, and feed her, the water clawing not only his boots, but then his knees and then his thighs. I give Dylan one last kiss, his hair tickling my chin.


"Be safe."
I whisper in his ear. Because this is all I could offer him. This is all I could do.

She sucks him under and the last thing that

I see is Dylan's hair

floating.

And then

nothing

at all.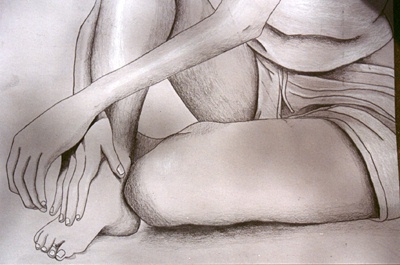 © Omar M., Phildelphia, PA