Sweetheart
November 5, 2013
Her drab gray dress was an eyesore on the jaunty red of the bench. A sigh, followed by the crisp ruffle of leaves and cheap cloth. A screeching bus pulled to a halt. The bright autumn trees, blazing fiery hues, clung to their leaves overhead. She paused, foot halfway in, announcing her commitment to the ride ahead.
He would love it if he had been here. No, no, she shouldn't think about it as wispy tears came to her eyes.
Let's go find him! The thought appeared as sudden as the desiccated acorns fell from trees to frantic, eager squirrels.
"Liam!" she called, half crazed with excitement.
"Liaaaaam, sweetheart, come here, mommy wants to show you something pretty."
Her calls were absorbed by the dew-dampened grass. Like the angel that he was, he appeared, peeking the brown-fringed head behind the suddenly unimpressive line of trees behind her. He dashed off to an alleyway.
Heart racing, she followed. Hide and seek: his favorite game. Just don't hurt yourself, her mind raced frantically. Dashing off behind him, arms flailing, she let her gasping dissolve into wild, incoherent laughing.
"Liaaaaam, I'm coming to find youuuuuuuu."
She finally reached the mouth of the alleyway. No Liam. No Liam??? The darkness had swallowed him. Swallowed her sweet, her precious….
"Liam," she cried hoarsely, voice cracking, body ransacked with sobs. Then, she smiled. Ha! What a clever little boy! He sure knew how to scare his mommy.
She got up, smearing the dirt further into her dress, her muted gray flats touched against an object.
A misshapen, half folded – half crumbled note on the ground. She opened it. A small yellow sun with a wide smile splitting the pastel yellow. Two disproportionate figures, a woman with wild hair, spilling off of her white head in all directions and a tiny child next to her, gripping her hand. Orange tulips embedded in the unnatural green around them. A brief image flashed in her mind: an ancient sheet of paper with similar messy crayon marks still clinging to a filthy fridge with colorful magnets.
"Liam," her voice was now an expectant whisper. The orange tulips! Of course! How clever her little baby was. She had to find orange tulips. So Liam wanted a scavenger hunt, after all.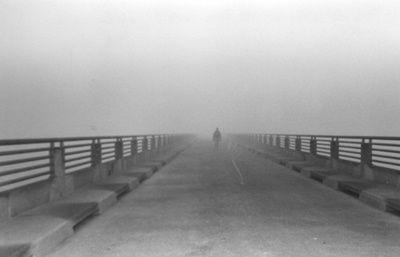 © Becky G.,Westerville, OH