Rocking Chair
May 23, 2013
I've known you all your life yet you leave me here forgotten. I knew you and your mother and her mother's mother. I've been with your family for generations, you for your lifetime.
Do you remember all of the times you sat bouncing on your mother's knee?--such a sweet little thing then--watching the great monarch butterfly migration. I remember how excited you were, eyes brimming with wonder, as you watched the swirling mass of orange dance between the sunbeams. I remember when you sat alone rocking gently to the sea breeze while you sang a song. Oh yes, I know all about you. When you sat down on that old antique rocking chair, is when I could hold you in my wooden arms. I also know you were grateful I could, when your mother was placed six feet under.
I remember how you used to talk to me, wishing I could talk back, unable to hear my wooden voice. I remember all of the times you would watch the butterflies going home. You watched them every year until that someone you love could never come home to you. Then I sat alone and watched the migration, some of the magic was lost. They no longer fluttered through the air, but struggled along miles of a long hard path.
I know you remember me. How it seemed we could fly together over the crashing surf and join the dancing butterflies. How it seemed we could escape and smile again. Let me take you home, come and fly again.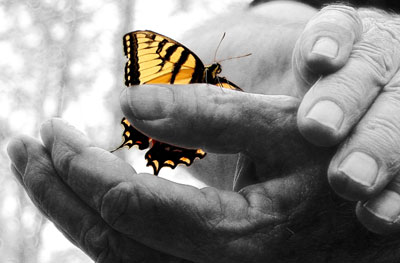 © Katie K., Macon, GA