The Descent
April 27, 2013
The darkness comes and swirls around me. The black billowing clouds engulf everything. I feel it tugging at my soul. It saps the happiness and joy from my lungs and leaves pain and sorrow within my heart.

In the corner I see death, his robes as black as a moonless night. Underneath his hood I see the wretched remains of a face. His eyes taunt me as I search for them inside their once warm residences. Still, I see nothing, only the absence of human kindness.

He raises his skeletal hand over my form. I feel its full power looming over me. I sense its crushing force.

Then down, down I fall into the never ending abyss. The walls move in, in until they slice open my skin on their jagged edges. The blood flows from my veins, into the open air. As it hits the walls which summoned it, I see the liquid turn to spark, then to flame. The fire's red teeth lunge at me. They quickly gain ground. It comes closer, closer, closer, and closer still.

Then my legs erupt with searing pain. The red hot, rusty knives carve into my body. I scream and scream, but it does not help. It seems as if my howls are as silent as the darkest bowels of hell.

Finally I fall into the mystic waters which I have fought so long to create within myself. My legs are no longer tattered pieces of meat, but strong limbs which are now fit to carry me one thousand miles. I swim from the island of solitude back to the lands I once called home. Five days in all until my flesh once again felt the solid sand.

Indeed I was back, but I would never be the same.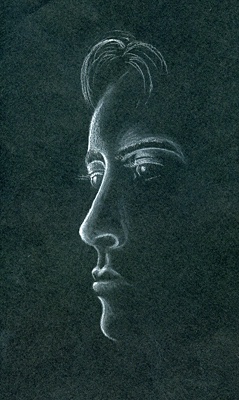 © Carlos S., Glendale, AZ