Prince Charming
March 26, 2013
He was everything I could've ever imagined. He was sweet, kind, caring, adorable, and perfect in every way. We were together every single night; there was never a night that you'd catch us apart. We'd lye up in my room and talk about our day, about our families, about anything and everything. There was one catch though… not a single person knew about him. He didn't want me to tell anyone.

Even though he spent every night up in my room, my mom was oblivious to him.. Why he didn't want anyone to know about him, I had no idea. I also didn't care, he was my everything; as long as he'd stay I'd do anything at all that he wanted.

That night I was laying there in his arms with my head on his chest and our hands entangled, when I asked him, "Why don't you want anybody to know about you?"

He kisses my nose and says, "Nobody needs to know, as long as you know, it shouldn't matter." His voice was so beautiful and filled with melody.

I rolled my eyes at him and hugged myself closer to him; the scent of a woodsy musk emanating from him. He always smelled like this, nothing any different. I didn't mind this though, because that happened to be my favorite smell in the world. Somehow, everything about him is something that I've always wanted in a man. He was literally perfect; the shape of his chin, his beautiful blue eyes, his toned body, just everything.

I was about to fall asleep when I heard my mom's stressed voice calling out, "Honey! It's time for dinner!" I groaned and looked up at prince charming. He just scooted over on the bed so I could get up to go eat.

"Are you hungry? I could bring something up," I ask him as I am almost to the door.

"No, don't worry about me, just go eat," he replied.

Once again, I rolled my eyes at him and left the comfort of my room and my boyfriend. I bounded down the stairs, trying to get to the table and eat fast so I could get back to him as soon as I could.

"You're always in such a hurry," my mom says to me. Her hair was up in a really messy bun and she had bags under her eyes as if she hadn't slept in years. She worries about me so much after dad left, it controls her life now.

"Sorry mom," is all I have to say to her because I couldn't really tell her the truth.

She sits down across from me as we dish out our plates and says, "Did you take your pills this afternoon?"

"Yes mom, I take them every single afternoon. You don't have to worry about me all of the time you know. Ever since dad left, all you do is worry, take a break for a while," I said with a smile.

We're half way into dinner when she brings a subject up that I really do not want to talk about with her. "Honey, has any real nice guys shown interest in you at school yet?"

"Ugh mom, do we really have to talk about boys?" I asked, putting my face in my hands.

"I think we should. There's gotta be real great guys out there in the school. Do you like any of them?"

"Mom, I'm not gonna talk about this," I replied softly, getting back to eating my food. She rolls her eyes at me and we continue the rest of dinner in silence. When I'm finished, I clean up my mess and rush up the cluttered stairs to my spotless room. I walk inside and there he is, my prince charming waiting for me. I jump onto the bed into his arms and cuddle to his side. He just laughs and runs his fingers through my hair. We continue talking about our day, and the days ahead, and I just can't help realizing how perfect my life really is with him. I wouldn't change a thing.

*
*
*
*
*
*
*
*
*
*
*



I quietly walk up the stairs and peak through the crack in my daughter's door. She's doing it again. Every night, it's the same thing; talking to a guy that doesn't even exist, though she thinks he's actually there. I walk to the bathroom and look at the bottom of the trashcan, just as I expected, her pill was right at the bottom. She never takes her pills. If her dad just never would've left, we wouldn't have to worry about pills and a hallucination of a boy. I sit down on the bathroom toilet and gently wipe the tears from my face. If she'd just take her pills, neither of us would have to worry about her falling in love with a figment of her imagination.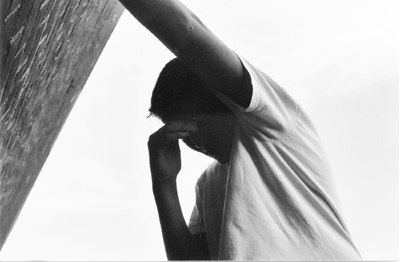 © Dillon O., Pompton Plains, NJ