Til The Fat Lady Sings
February 27, 2013
High School should be called Low School




because there are more downs then ups.
She stands in the bathroom during her lunch period,
staring at the flesh colored skeleton in the mirror.
Instead of her rib cage protruding through her skin, making it look as if it'll rip at any moment... she sees ten pounds of weight she could lose to gain her ultimate goal: size 0.
When she leaves at the ring of the bell,
she does not leave behind the oaths she has made in inaudible whispers to herself.
As she walks down the hall, she feels their eyes follow her wherever she goes, trying to make her skull crack so they can read the secret words sprawled in blood on her fragile bones. And deep in the farthest corner of her mind, she knows that the teachers will never sing the songs that the students are humming, because to speak it would be a lie. The students shift around her like a satellite, almost afraid to touch her but never afraid to stare. They are lies.
She tells herself: they wanna be like me, strong enough to be this way. Her mind is always reeling, constantly rationalizing her behavior in harsh words: stupid, loser, fat, worthless.
She pushes herself to the limit each day, past a skeleton. She pushes herself to
ash and stardust.
All she wanted was perfection. But, never once did anyone speak up.
"you're beautiful the way you are."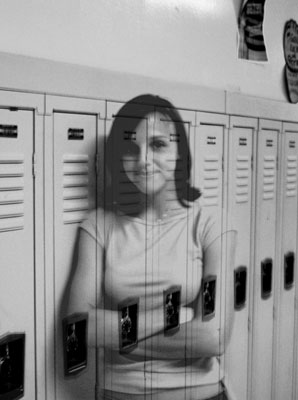 © Amy D., Troy, OH