Want You Back
January 29, 2013
"Do you believe that time heals our wounds?" she whispered, kneeling in the grass. A light wind blew, tossing her long hair over her shoulder that rose with goose bumps. "You should know that I hate myself for every evil word I ever hurled at you. I was pushing you away for reasons that I don't even know myself." She remained there, no one answering her. Then again, did she really expect someone to respond? After all, gravestones can't talk.

Another gust of wind brushed against her bare arms, sending another chill down her spine. She could feel the cried rising in her chest. She took several deep breathes before continuing.

"All I ever did was take you for granted, while all you did was treat me like a god…ess." She hiccupped a feeble laugh. "We've missed out on so much…All because I waited so long. What was I waiting for?" Tears started burning her eyes and bile rose in her throat. She laid her shaking hands on the cold stone.

"I don't even know if you'd want me to be here, talking to you…All I ever did was hurt you…

"Now that you're gone…I want you more than ever. There's a statement to show how conceited I really am." She sat for a while, silent tears wetting her cheeks. "It's true, I've decided," she started, choking back more tears. "It's true that you don't know what you have until it's gone."

Through blurred vision, she reached out and traced the engraving of his name with her finger: "Lucifer."

"I would give up anything to have you back…to see you looking back at me, to have you hold me one more time…" The sobs finally broke and she let it out, holding herself on her hands and knees.

As half an hour passed, she cried herself dry. She curled up by Luke's grave and fell asleep with the feeling of his arms around her.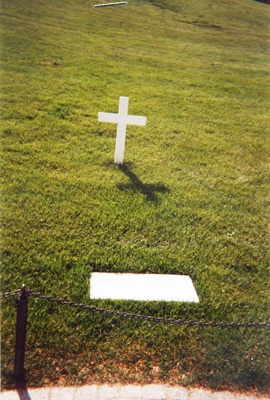 © Whitney T., Glenpool, OK