Dream Sequence
November 23, 2012
Worst Nightmare. Or Strangest.

The tiger on the wall mocks me. "Look at your shoes. They strangle you."

My laces were, indeed, wrapping around my feet 'til they turned purple. Realizing that this was probably a very-not-good-thing, I made to cut the laces.

I stopped short. I had no knife.

A coughing noise draws my head up. The Tiger (seemingly important now) spits out a sword. "Cut off its head before it grows back." he instructs.

My ratty laces have turned into two Hydras, hissing and spitting, forked tongues tracing words with no meaning up my bare legs. I should have felt horror, but I felt numb. Only the darkening color of my ankles clued me to my approaching demise. As I tried to swing the cumbersome sword, twin Hydras crept upwards, humming the combined melodies of several pop songs.

"Look right. No, your other right."

Following my snide Tiger's voice, I swiveled my head one hundred and eighty degrees. Like an owl. And grew feathered wings. Also like an owl.

The seats of an orchestra hall stared back at me, where several acquaintances began to fill the first couple rows. The Queen and Landon, the Terminex Guy, led the mad rush. Filing after them, situating themselves in the decrepit seats, was my bat-s*** crazy neighbor, Newkirk, some French girls I had once saw on vacation, Ugly and Co., and others I certainly idolized but did not know.

I stood there awkwardly, holding an all too heavy sword with snakes wrapped around my feet, a snide Tiger for company.

They sat there, eyes peeled, watching my every move. I saw the March Hare in the back, taking notes on my swordswoman- technique.

I was not aware of time passing, of my arms growing fatigued. I barely noticed the fighting at all, and curiously enough, the more I thought about it, the less I remembered. Suddenly, though, everything froze. The sword became a toothpick, and the gunslinger handed me a thick steak. What gunslinger? What steak?

Oh wait. It's well done. Hand it back. Throw the toothpick to adoring fans.

The Hydras were burning, dissolving into goo. I was safe! My sword was now a party hat, which I placed reverently upon the Tiger's head, and we conversed in Japanese.

Fluently.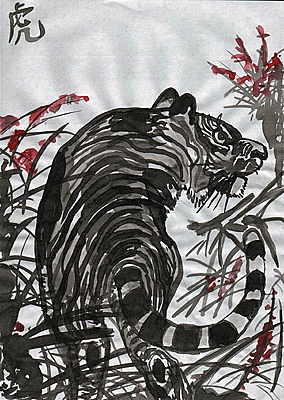 © Xin H., Elmont, NY