Mulligan's Mustache
MAG
Mr. Mulligan's mustache peeked out from beneath a chiseled Roman nose. It was in the prime of its life, as Mulligan had only begun sporting his new mustache last season and had found it to be a smashing success. Once an awkward conversationalist more likely to offend than charm, Mr. Mulligan found that his facial hair made him magically debonair. Even his dancing improved!

Previously, Mulligan had been dismally clumsy, had a knack for trotting upon slippers, and never remembered to brush his teeth. Now, Mulligan found himself confident and innately suave. Once, he had spent his nights with his mother, playing all manner of card games. Now, he was a man about town, present at every major event. He awoke each morning with vigor and enthusiasm, neither of which he had ever felt before.

Mr. Mulligan had grown a mustache after much careful consideration. He experimented tirelessly with paper cutouts to see which style would most flatter his face. For once in his life, he stopped keeping company with his mother; all his time was consumed with the mustache and he had no time for puerile card games. His library, once reserved only for romance novels, became filled with volumes of mustache lore, history, and care. Mulligan read countless consumer reviews and interviewed barbers to see which products to use. He finally decided on a respectable line called Emperor's Choice, which claimed to have been the favorite toiletry of the likes of Genghis Khan and Marco Polo.

Having found the perfect product to aid him with what had become his utmost passion, Mulligan began to grow his mustache. Thus, a thing of exquisite beauty came to be! It took precisely 31 days to mature, a month which Mulligan spent constantly checking the mirror. Mulligan's mother was confounded by this sudden change in her son. Instead of visiting her, he spent his time recording every sprouting hair in a journal. The mustache was jet black and thick enough to style easily but not so thick that it was unruly. The mustache adored Emperor's Choice - one could say it almost drank it up. The local haberdashery could barely keep up with Mr. Mulligan's demands.

He was suddenly the toast of every elite circle in town. This most extraordinary mustache was venerated by all the gentlemen around. Every dapper young man futilely tried to emulate its godlike beauty and symmetrical charm which left women utterly breathless. On the street, he was the recipient of numerous glances of envy. Gaggles of young ladies would turn red as he passed. If the ladies were particularly fetching, and he was in a fine mood, he would throw them a handkerchief. Much squabbling ensued and the winner would rush home to place the token in a special place. Mr. Mulligan had never been such a commodity - things were going very well indeed.

Thus, Mulligan became a local celebrity and a facial hair icon. He was a guest at every dinner party. There were even parties held in his honor! Mulligan sensed, however, that none of this was real. As many friends as he had, he wondered how many would remain if he were clean-shaven. The ladies, he thought, would care little for me without my mustache. Despite these doubts, he continued his hedonistic lifestyle, pushing the nagging suspicions to the back of his mind.

One night Mulligan was introduced to Theo Franklin, a man of great consequence. Franklin possessed a brilliant mustache, one considerably more impressive than Mulligan's. For the first time in his mustached life, Mulligan was rivaled. At dinner, Theo was funnier than Mulligan. After that, invitations for Mulligan stopped arriving and he was virtually forgotten. Tickets once reserved for him were given to Franklin, and the ladies stopped sighing and blushing for him. The fashionable dandies no longer looked up to him, but mocked him instead. For all the fame and glamour it had brought him, his mustache left him nothing of substance to hold onto.

Mulligan was no longer proud of his facial hair. In fact, he despised it. Grooming it became a chore. Soon he stopped caring for it altogether and his grooming supplies lay dusty. He finally shaved it off and without a pang of regret. He was almost unrecognizable, no longer swollen with false confidence. His gait became more downtrodden and he spent his evenings walking the streets in dismal lamentation. The crows and shadows were his sole companions. For a fortnight, Mulligan spoke to no one, and no one spoke to him.

On one such night he wound up by his dear mother's house. The small edifice was lit up and through the lace curtains, he could see a small lady rocking back and forth. An intense longing filled Mulligan as he stood there.

Tears filled his eyes and he felt a wave of regret move through him. At that moment, things became clear as glass to Mulligan. He did not want to be envied or admired for his mustache. It did not make him happy, just lonely. As he ran up the walk, he felt truly alive. As his mother greeted him and started a game of cards. Mulligan knew that he had found true happiness, or rather, rediscovered it.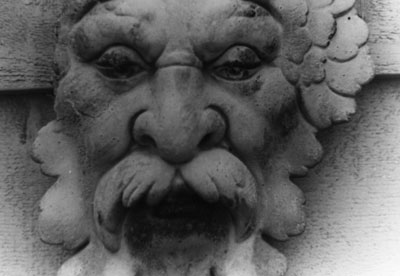 © Mary W., McLean, VA