I am no more
July 13, 2012
I was sitting on the couch when my door opened. My mother was at work and thought she came home early. Excitedly I jumped up and ran to the door. Expecting my mother, I saw nobody. As I turned around the door shut. It's just the wind I thought.
I sat down on the couch to switch to my favorite show. Just as a commercial came on the power went off. I get up and feel my way to the kitchen. I opened up the first drawer, I felt a flashlight and grabbed it. I turn it on and the lights come back on. I go to call my mother and tell her. Suddenly something moves across the room. Its a black figure. I calmly turn and run outside.
I trip going down the stairs, suddenly I start to fall.
I'm falling, into a dark place.
I'm falling
D
O

W


N
Deeper, darker.
Frantically,i try to grab something, anything to stop myself from falling. But there is nothing. Scared I try to scream but nothing escapes. I'm terrified, petrified. Falling down deeper, darker. I hit the bottom and turn to dust. I am no more. I have fallen through my life. Nobody to catch me. I am gone.

I see the black figure again, strangely I scream.
'Anna! Are you alright?'
'what?' I manage to say.
I open my eyes.
My mother is standing beside my bed.
It was just a dream.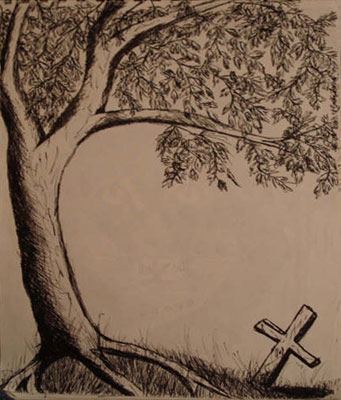 © Courtney K., Bethel Park, PA