Hurricane
October 23, 2011
Toby Flescher is walking down the street.

There is a crack in the sidewalk. If he steps on it, his mother's back will be broken, but that does not matter because she is dead.

So, say that he does step on it. Toby is not a superstitious man, and nothing will change.

There is a red convertible by the side of the road with the keys still in the ignition and the top down. If Toby decides to hop in and drive away, nobody will see him. If he walks past without doing anything, nobody will see him anyway.

He does nothing.

Toby Flescher is wearing the tie his girlfriend gave him for his birthday. She vacillated for several minutes in the department store between pale green and black. She decided at last on the latter, and this was lucky because it hides the blood so much better.

Toby is limping, and every step he takes on his left foot nearly sends him pitching into the gutter. The seam of his suit jacket is torn up the right side, and he could turn right into the tailor's past which he is currently staggering, but nobody would be there to mend it.

As it is, nobody is anywhere, especially not to mend him. His tie hides the blood well. His girlfriend is dead.

Toby Flescher takes one more step and collapses into the gutter, his ribs shattering. Even if the life leaves him before this occurs, nobody, not even he, will hear the crack.

There are weeds growing in front of his ragged face where he lies. One of them is a dandelion.

If Toby uses his dying second to blow on it, the flower will shatter at his stale and bloody breath and drift far along the gutter. The force of the air from his lungs will keep going long after the seeds have been planted, and in four more months a hurricane will form off the coast of Florida, destroying hundreds of homes that will already be empty. If he chooses not to blow on the dandelion, it will not matter.
Will it?

Nobody is here.
Toby Flescher is dead.

If a man starts a hurricane, does anyone know?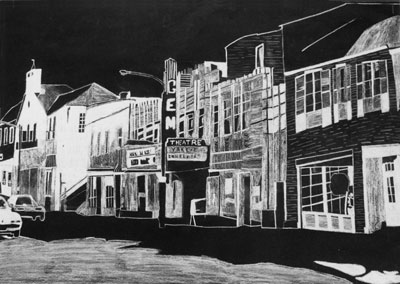 © Chelsea P., Kannapolis, NC