Laughing
May 11, 2011
The old lady is a hag. She bumbles about the street wrinkled and gross and mumbling to herself like a mad fat parakeet. Bags and layers of fabric pile onto her shoulders and gather in a lump at her bent hips.
Creakily jittering in the wind, her voice scratches a painful sonata as it creases against the asphalt, unheard and unimportant. Everyone ignores her.
She doesn't know what she's talking about, or who she is, or who she was before she was this dying street rat in a sea of living, respectable people. Of course, she's simply crazy. Everyone knows that if they acknowledge her, she'll start talking to them and won't stop rambling her nonsense until they work up the annoyance to just leave. It's much more polite to simply act as if she doesn't exist.

Down the street, a boy is looking at her. His eyes are wide and innocent and brown, and he hasn't tasted enough of adulthood to know that he should move on. The hag raises her head, ready to scowl or hiss or yell like an angry woman chasing a stray cat off her porch. But she doesn't. Instead she stares at that little boy and her eyes open a bit, back into life.
"Eduardo", calls a quick Hispanic voice, and the boy turns away to grab his mother's hand. With one glance back at the dirty old woman, he disappears down the sidewalk.

The old woman is frowning now, and goes back to her sorting. Busily sifting through cans, bottles, and plastic from the street, the hag is irreverent of the cars passing her head in a loud roar. She bends into the piles of goop gathered on the edges of the road as if she had done this her whole life, and was never expected to do anything different. Moseying on to a new trash pile, she purposely bumps a young couple on her way. The man she brushed against wipes his soiled hand and shelters his girlfriend from the old lady as they walk away. If the hag had seen, she would have laughed.

As it is, however, she is too busy examining a painting she plucked from the center of the nearest trash pile. Turning it around and around, she can't seem to figure out which blue cloudy texture is sky and which is water. The painting doesn't make much sense, with its very blue consistency and random poufs of white. A grumble flits from her lips—something that, out of a grandmother might've been called a harrumph, but from this wasting street urchin is more accurately described as a growl.
She puts the painting in her twisted shopping cart and moves on, caressing green and brown glass bottles in her crinkled leather hands before sliding them into her bag with a clink. Weaving through the refuse, the hag shifts and cracks her aching back before crouching again. The next trash pile yields a festering blue blanket, which she tosses in her cart, covering the recently excavated painting.
More people pass on the sidewalk, turning their heads quickly away from her grubby stumped figure. She hears a click behind her and turns to see, across the street, a crew of newsmen setting up their equipment to interview. That in itself is not unusual—there is always news in the city and almost always cameras to accompany it. But since the hag is nosy and wants to make the crowd uncomfortable, she goes to listen in.

Deliberately waiting for a car, she stands until the vehicle is just close enough that it has to stop for her but not close enough to put her in danger. Soon a yellow Mercedes screeches into view and she steps onto the asphalt. Pulling her cart behind her, the old hag bends and backtracks to gather fallen bits of trash off the street. A honk beeps annoyance. She doesn't move any faster—it seems almost as if she slows down. She knows city people aren't very patient.
The Mercedes driver isn't sure, but he thinks he sees her smile. Reacting quickly, he revs his engine and shoots forward, sending a shocking whump of air through the old lady as he slams on his brakes just in time. Her layers of rag clothing ripple in the wind of the car's halt, and she steps out of the way almost inadvertently. The driver laughs and crunches his car over her dropped soda cans, face tilted in an expansive guffaw directed straight at her trembling stubborn form.
She stands there and lets him laugh.

Now scowling and moving off the road, the old woman presses onto the semi-packed sidewalk, ignoring the yellow warning of plastic tape as she shuffles to a darkened corner. The news crew is set up and now they're interviewing people; all the intelligent-looking ones and the young mothers and the attractive youth. The hag knows they will ignore her and so she vaporizes into the background with practiced decency, a ghost that isn't there simply because no one wants her to be.
To the right, there are lights spotlighting the young news anchor, highlighting her perfect makeup and perfect hair and perfect smile. Harsh shadows cast by the spotlight conceal the visage of an old lady's drooping eyes, face and body.
A second passes as the red light blinks on the camera, and the crowd is quiet, everyone holding their breath. Over ambient city sounds, the anchor's voice projects:
"Hi there everyone. This is Cindy Mason, bringing you the latest on the recent heist of Claude Monet's painting 'Waves Breaking'. Just hours ago police chased two unidentified individuals from the San Francisco Museum of Fine Art down Tea Garden Drive and finally to this very street. They were hindered by a sudden explosion between themselves and the suspects, which allowed the suspects to escape. The police are now certain that the painting left the suspect's possession after the explosion and claim that the million dollar piece of artwork is now somewhere on this very street. The Museum is offering a 5 million dollar reward for the return of the lost painting. George Gianni has more on the subject. Back to you, George."
The camera cuts and leaves a warm buzz in the air. Then the stage lights turn off and in the ensuing darkness the homeless woman looks to the sky to observe the fast dwindling sun. Twilight flutters into darkness as she treks out of the city to find shelter. Presently, she is alone with her cart and bags in a scrubby field.
Pulling her things over to a yet-incomplete interstate bridge, she settles in and grabs the picture, which had been sitting so innocently in her cart until then, and cackles. Now turning it upside down, she discerns the puffy white jets of water atop the impressionist's 'Breaking Waves'. Gaps of black peer out of her grin like curious monsters out of a closet.

As darkness falls, she is found sitting there with a blanket over her lap, warm and content with a small boiling fire beside her. There within the fire is a burning ocean in a thousand dollar frame.
All the world would say that she is insane. Some would laugh.

But this night, the hag is warm. And this night, she is laughing at them.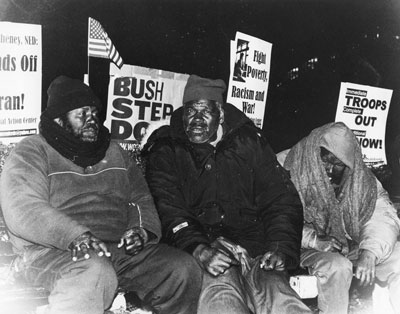 © Marie D., McLean, VA