The Edge
March 23, 2011
The whole world is below me. Buzzing street lights, people walking rapidly, cars humming. The sky is a light shade of blue, so peaceful. Taking a breath, I look down at my feet and where they stood, at the edge. I can hear the wind running through my ears as if they were silk. I take one last glance at the stretching sky, and take a step forward. Time was going in slow motion; I didn't care about anything, or no one. That's when I heard her, screaming horridly.
"No!"
But it was too late. I imagined how her face was, tears pouring out of her eyes, and running, running towards the edge. I didn't want to die. This was a mistake, what am I doing? I had to see her face; it was the last thing I wanted to see. I turn, and twist, using all my strength to look up at the edge. All I saw was a dark figure. The sun's rays were too powerful. Disappointed, I return being limb. This was a mistake. One mistake in which I can't take back. Suddenly, all my emotions busted out, I was crying, screaming,
"HELP!" As if someone can help me now. I was gaining speed, getting closer to my fate that I have blindly chosen. I close my eyes, and darkness came.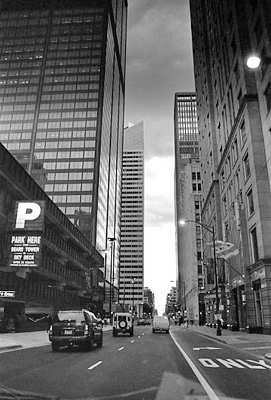 © Alexandra K., Chicago, IL