Ready
December 13, 2010
The sun came above the horizon, its radiance pouring through my open windows telling me it's time to wake up. I throw off my covers and jump out of bed. I run to the calendar and check, yes, it's the first day of school, the first day of senior year. I jump as I prance over to my closet, where my jean skirt and one shoulder, lilac colored shirt wait for me to put on. I tug them on and grab my pink flats; I hurry to the mirror and check myself, ready. I run to the bathroom and brush my teeth, I do a head bang to give my hair volume and then fluff it out. I grab my mascara and put it on, then pink eye shadow and a slight bit of blush, I put a light colored lipstick on and check myself, ready. I grab my bag and sling it onto my shoulder; I throw my lipstick, cellphone, and wallet in there before I run down the stairs. I check the clock, 7:25; my friends would be outside waiting to take me to school any minute now. I grab a bottle of orange juice and an apple, I thank my mom and tell her goodbye, she tells me good luck and I smile at her as I run out the door. My friends pull up in Amber's silver corvette that she had gotten as a 16th birthday present. "Ready T?" She asked me poking her head out of the open window. I nodded my head and climbed into the backseat next to Lisa, and Elli.
"Ready for senior year?!" I shouted as soon as every senior was waiting anxiously in front of the door. Shouts of "yeah" erupted from the students. Finally the security guard opened the door and we all piled in.
"Senior year!" All the seniors yelled as we jumped and ran through the hallways. Myself, head of the popular group, and my friends, also part of the popular group, walked through the hallways proudly. Our hands were on our hips, and our faces wore looks of proud.
Finally, we were all ready.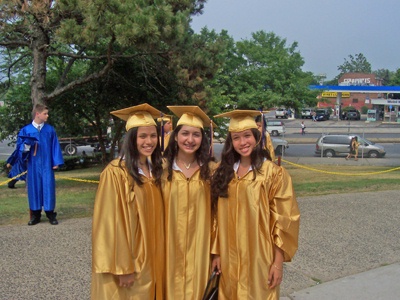 © Elizabeth E., Elmhurst , NY