Tomorrow
November 2, 2010
Tomorrow you looked at me with distant eyes.

Today you held my hand and the heat was intense, it made me gasp. The air was cold, see, and so were my ears. The grass was blackening though and the trees looked sinister in the twilight – but we all sat there anyway, in the cold and the dark, and we did the things that everyone did when they were young and crazy and free. It was a fantastic feeling that – our youth, our innocence – and it was something to be cherished but we never cared. And we never did. Only young, stupid, crazy people wouldn't care. We were afraid to grow old.

I remember how the clouds seemed invisible and the only indicator of their presence was the deep blackness where the twinkling stars should have been. I thought how rude of the clouds and I wished that I were God so I could have punished them with a cloud child's equivalent to a wooden spoon. That would have been something – oh yes – but back then we all wanted to be God.

You were there, drinking the drinks they forced upon you, watching me smoke the drugs they forced upon me. We were being thrown into a carnivorous sea with no protection or skills – we were babies – and we were too f***ed over to care that we were beginning to drown.

It was a peaceful night, but the internal chaos that we felt was overwhelming. We soon took care of that though with the smokes and the drinks at hand. The men were sleeping and the toddlers popped pills into their small mouths. Little nymphets were grinding on invisible poles and their mothers suckled on milk bottles.

Whatever happened to us?

It was all so distant and yet it was with us on the hour, sitting on our shoulders as if indulging in some evil child's play. We both held the same burden and that drew us closer – oh how close we were! – until we were intimately entwined in a f***ed up dance of hot breath and fumbling fingers. The night grew colder and the moon grew darker and it was just us, the intoxicated lovers, sitting in a circle of outcasts and romantics.

Nothing happened but for the bats and the insects creating the silence around us all. Comforting and lulling us into a waking slumber. It was still, time and space, for you and me.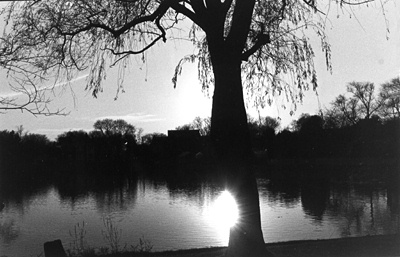 © Chuck K., Marblehead, MA