Caprice No. 24
May 23, 2010
People swarm by, busy as usual, chins tucked so far under their necks that, from above, all that can be seen are the different colors of their jackets. Rain pelts down, drenching everything with wet, cold hands. The people don't seem to notice; they just keep marching on, all competing in the race to get to nowhere.

One man suddenly breaks into a sprint, trying to squeeze his way through the mass, primitive instincts urging him to break free. He keeps shoving, but to no avail. The mass solidifies, pushing the errant man back in his tracks, pushing him back to where he was. Screaming, the man struggles to get out, but his shouts are muted by a boom of thunder and the pitter-patter of shoes on wet cement. He grudgingly slows to a walk, glaring at the multicolored jackets surrounding him. Because he isn't looking at the ground, a jagged piece of the curb takes his feet by surprise, tripping him. He stumbles, tries to regain his balance. But the sidewalk is slippery, and he falls with a loud whump.

It is hard to distinguish tears and rain on the man's face as his limbs are treaded upon. Slowly, ever so slowly, the never-ending mass of people make their way over the poor man, leaving him lying on the chilly, damp street. The man lies still, squeezing tears of hurt out of his eyes. He cautiously lifts his head up, looking all around to confirm that he is alone.

Suddenly, he jumps up, freedom filling him with jubilant energy. Spinning, he becomes giddy from the rain, the air, the lack of conformity. He dizzily staggers over to a bench, head spinning. But he can't sit, and he starts to run. Only this time, he knows where he is going.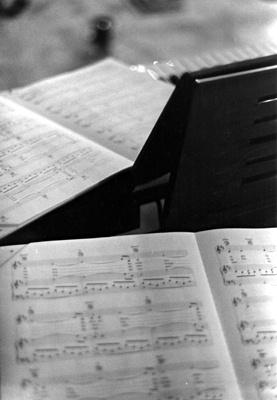 © Jessica M., Lansdale, PA