Orange Hair
February 18, 2010
It was the orange hair that stayed in my mind. Not just any orange hair; Brilliant, glowing orange that would shine no matter how dark the day. It reminded me of the evening when the sun was setting. The clouds were laced with purple puffs and the remaining blue was slathered in a warm golden that wisped up until its stretch wore into the remaining dark of the night. That's how much I loved Emily's wispy curls of orange that framed her pale-heart-shaped face. It was inevitable that we became best friends in junior high, with her in my homeroom and our lockers right next to each other. We were inseparable; side by side storming through the crowded hallways that we considered huge at the time, laughing at stupid inside jokes about teachers and cute boys with dark curly hair that we knew that we would never get. We were complete opposites as day and night. Her, a quiet shy girl, who lived her life through books and had an air of innocence to her, was completely different from her mouse haired best friend with an overactive imagination, urgency to fulfill life through experience and outgoing personality. No one could have been more different then me, and no one could have been so perfect.

At least that's how I looked at it, through my dull sharp eyes. As junior high came to a close, life was becoming better. Going to the zoo was a pastime of ours. I would point out the chipmunks skittering along the simple gravel of the path as Emily cheered the larger displays of loins and their blur of main, giraffes and their dark spots, and the hands of an ape. The summer was filled with minor adventures. Chasing ice cream trucks until they stopped was ritual, dancing in the night sky as rain drops poured down from the stars was religion, and twirling a whirlpool in the pool in Emily's green backyard until the shallow water swooshed out the sides was just a fact; the summer was hot, baking us from the inside out, and still we enjoyed every second until the timer ran out. Then, as the oven closed, we jumped with excitement as we realized exactly what was coming up next. High school.

Freshman year was sure to be a blast. I had a best friend, cute and cuddly, who I adored. Following her around like a puppy: we smiled loudly, sparkling the air with our laughter and showing our enthusiasm and playfulness through acting improv. It was inevitable that things would begin to change as life set into our minds, and it was astonishing, realizing that high school was hard, and that both of us would have to come out of our shells and do our very best. Basking in the summer heat was fun, but now set in the snow.

It was also inevitable that two young enthusiastic freshman girls would find boyfriends. A simple pleasure; the annoying attention to fall in love was too overwhelming to pass, and we both found junior boys to share our determination with. That's when things began to change.

Having been a follower for the last year was easy to overcome when there was someone else to stalk around. Soon, our relationship began to fail; each step was away from one another. Problems began sparking up as Emily began to get too serious, and such was the other way around. Although still close together, and tied with memories, neither of us felt like closing the door and letting the friendship go. We didn't need to, it was still strong.

After a year and a half, January came. It was cold, and bleak. The sky constantly gray with ugly peeks of new green grass poking through the remaining damp. Just like the snow, everything became dirty and broken. Though Emily and me had both been excited to have begun dating around the same time, it was equally as surprising, and less exciting to be not dating at the same time. Both of us sinking, and both of us unable to help each other, it became apparent that our lives were taking other directions. My puppy dog days were over as I was lost in the fog of my mind.

Everything had fallen apart that year. Constant fights, constant anger, constant annoyance. The light in Emily was lost, as she dyed her beautiful orange hair a deeper brown and the laughter stopped, as had our friendship. It was like a sudden pause, and I was expecting for life to keep going… but I didn't want to be the one to hit play. Stubbornness had always been a personality trait of both of ours. Once someone else came into the picture, we both knew it was time to let go. The memories we once held were beautiful and important. However, they were not enough to keep the dirty friendship going. We both had changed, whether for the good or bad it didn't matter, and we both knew it was time to let go. As we hugged each other, telling each other we would never forget everything that we had had, I walked away from her locker in the busy hallway. It wasn't the tears she had sprawled across her cheeks in my mind; it also wasn't the confidence in who I had finally become – an independent woman, creating her own life and own leadership. The only thing left in my mind was the orange hair. Not just any orange hair; Brilliant, glowing orange that would shine no matter how dark the day.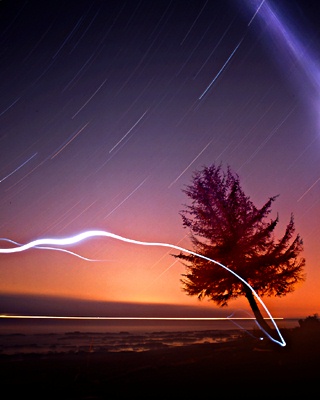 © Joey M., Spokane, WA