Hunger
December 29, 2009
The land is flat, dry, brown. Unremarkable in every way. I gaze out to the horizon, my eyes eagerly searching for some sign of green, some tiny sign of the life-giving color I so deeply long for. Instead, all I know is this monotony, this drab and lifeless series of browns that colors my sight every day.

I stumble a few steps further towards the emptiness, then fall to my knees, the thin muscles of my calves unable to hold up these spindly bones of mine. They used to be strong; I could run and jump and play. But now I am left here, alone, accompanied only by my yearning for something greater – my yearning for what once was.

As my knees, then my chest, hit the tightly packed earth, flashes of red spin before my eyes. It is the first color I have seen in weeks, but instead of the purity I hoped for, I see only the rage of my abandonment and the hope that was torn away from me along with the rest of my life.

My memories are tinted red with anger, for I can no longer think of those before me without jealousy. I am enveloped with a rainbow of emotions, from the crimson blood of fury to the deep verdant swaths of my past, and there is no escaping them. Faster, faster, the hues blur in my vision until in a flash of light, they all combine to make a single color.

Brown.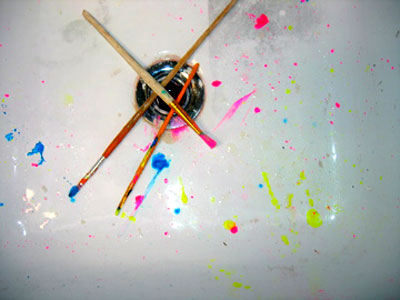 © Chelsea H., Carlsbad, CA