Escape
June 19, 2009
She lay in bed, trembling at the thought of him coming home. It was four a.m. and there was no chance he would be sober tonight. How could this be?

She loved him.

Then why was she afraid he was coming home, entering through the door into her world, singlehandedly destroying it. Why did she secretly wish that one day he wouldn't come back? She didn't need this. She didn't need to live every day in the dear of his coarse hands hitting her nimble body, the shadow of fear lingering behind every thought. Oh, what a life.

She was doing it for Jamie;

Her precious son who filled her mind with such a deep intense longing that could only be described as a mother's love. He needed a father figure which was something she couldn't be for him. It didn't matter. As long as she stayed with him Jamie would be fine. He didn't know what happened behind closed doors.

At least that's what she told herself.

There it was, the slightest sound. The incoherent stumbling heard from behind the door. She still had minutes before he came up here, she could prepare. She closed her eyes hoping when he came in he would think she was asleep. Maybe that way he wouldn't toss her around like a helpless ragdoll just to hear her scream.

Maybe.

Her body stiffened as the door knob slowly turned. He was coming. The door creaked open, allowing the hallway light to illuminate her bedroom. In walked Jamie, her entire world. She was safe for now.

"Mommy, I think Daddy's home." Her blonde haired angel mumbled, wide eyed and afraid.

"I think so too honey, but you had better go back to bed. Daddy's had too much of the bad stuff tonight." She soothed him, struggling to keep the panic in her soul from reaching her voice. What if he beat Jamie?

"He's not going to hurt you again, is he Mommy?" Jamie questioned, a silent tear threatening to escape down his cheek.

He knew.

She heard the clumsy steps attempt the stairs and fear began to run through her veins, turning her blood frigid.

"Of course not, dear" she lied, hoping he wouldn't see through the facade, "now go to bed."

And then off he went, innocent and vulnerable leaving her to suffer through yet another night of husbandly love. Terror clung to every fibre of her being as the door opened to reveal her manic lover, laughing hysterically at something that was unknown to the both of them.

"How come Jamie wasn't in bed?" he asked slurring his words slightly with surprising calmness.

"He couldn't sleep," she replied, shocked at his serenity. Maybe tonight would be different.

"Well whose fault is that?!" he roared, the hope of a tranquil evening dying in a heartbeat. She chose not to reply, fearing that no matter what her response the reciprocation would only be of anger. Could this possibly merit a beating? Oh, she hoped not, she truly hoped not.

He staggered towards the bed in which she was sitting, shouting random nothings with no words of forgiveness for whatever she had done.

"You know, we have rules in this house." His tone was tohreatening and abusive. She had no choice but to prepare herself for the obviously inevitable. She looked deeply into his eyes before he raised his hand, searching for the man she used to love.

He wasn't there.

His fist hit her delicate cheek with a sound of hatred causing her to cry out in pain and grief. There was no way she was getting out of this one, not this time. She kept her eyes squinted shut, bracing herself for the next blow, the next explosion of pain that was sure to leave her writhing and unconscious. That's how it usually happened. Before the pain could be felt he went down with a loud thud.

How lucky. How coincidental. How ideal.

She felt her adrenaline go into overdrive. Was this not her opportunity? The great shining light that could get her and Jamie away from the hell they had been engulfed in for three years? How could this not be more perfect?

She couldn't. It was her husband. She loved him.

How could she do something like the thing that she was contemplating in the deep dark depths of her soul? There is always an opportunity for change; she could help him. It wasn't his fault. Jamie needed a father figure. She needed a man in her life.

Lies.

She didn't even realize it, didn't notice, as she slowly inched closer to his sock drawer, his insignificant, obsessively organized sock drawer that just so happened to hold a gun. Coincidental? Not even close. She had known that it had been there forever. She had suggested it.

She said it would be safer but she never knew that the safety would include such measures as this. She gently touched the cold hard metal of the thing that could cause her life to go spiralling into a bottomless pit but she was inches away from rock bottom anyway. What was the difference?

That's the thought that helped her pull the trigger and as the piercing sound echoed throughout the house, alerting the entire neighbourhood, she thought of just one word.

Escape.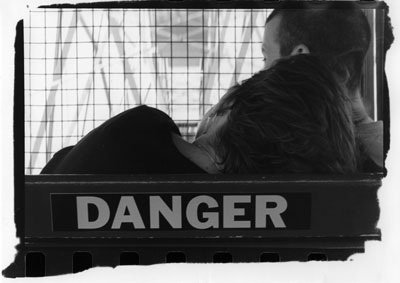 © Katie P., Bethesda, MD