A Life Spared
MAG
On what he planned as the last day of his life, Luke found the mitten.

He walked from his home out into the darkness while his parents bellowed at each other for the third time this week. He trudged through the six o'clock slush to the bridge, a four-lane giant stretched above a rushing river. On his hands were smears of fresh ink, signs of the shaky writing he had used for his note.

He leaned over the bridge to gulp his last breath.

And the mitten stopped him.

A memory stirred, but Luke shook it off. He had made up his mind and -

Again, he gazed at the mitten.

It was knitted, red and simple. It had just been dropped; flurries coated the sidewalk and a nearby lamppost, but the mitten was only dusted. Luke glanced around for an owner. The night was deathly cold; someone's hands would be frostbitten. He shivered. He was alone. Who was he trying to fool?

He pulled himself up onto the concrete wall. Staring down at the churning water he felt nauseated. Again his eyes returned to the mitten.

"Luke," smiled Mr. Shannon. "You'll go places. Congratulations." He gripped his pupil's hand proudly and handed over the diploma before an auditorium that thundered with applause. Unexpectedly, the teacher presented an extra gift: a box containing a pair of bright red, cozy wool mittens. Luke laughed and held them up for everyone to see. The audience too laughed, and poured out a second wave of applause.

Afterwards, Luke joined the rest of his class. He cheered and clapped and yelled with them and as one, the graduates flung their hats into the air.

Now, Luke stood in a pool of dull, yellow lamplight, and trembled.

In the winter of eleventh grade, Luke packed a box with hundreds of mittens that had been donated through mitten drives he had initiated. With a team of bundled-up volunteers, he'd walked the downtown streets and handed out mittens to every homeless person he saw. An old woman next to a cardboard sign looked up in surprise as he passed her a wooly green pair. A 20-something on a city vent took two speckled blue ones and tiredly smiled his thanks. A hardened street girl's face broke into a grin when Luke pressed cozy, red mittens into her hands. "You're a good guy," she said.

Luke stared out over the glittering, urban skyline. Behind him, cars raced along the bridge road. Around him, safe in their houses, people made dinner, relaxed in their living rooms, kissed, laughed, prayed, loved, drank good wine and read thrilling novels. Below him, the water roared and promised quick, cold death. Beside him, the red mitten lay. The wind stirred.

Luke took the mitten, and held it. Then he walked home.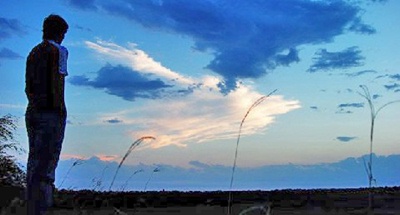 © Stefanie K., Katy, TX