Matt & Beth
June 2, 2009
I remember when we first started this journey; when I first saw you walking out of the school, backpack slung carelessly cute over your shoulder, surrounded by chattering friends, not saying much. But your suave attitude couldn't stop me from seeing the intellect that dwelt beneath your cool exterior. I knew you were different from them, from everyone.

You separated from your friends and strolled in my direction, daydreaming to yourself about something compelling and unpredictable, most likely. Suddenly, as if beckoned, you looked up and our eyes locked; I wanted to lock that gaze, and just throw the key into a bottomless pit. Yet after that millisecond thrill you cast your eyes down instead, and my smile started to fade into a well-known abyss.

As you came closer though, a new confidence radiated from your face like the summer sun about to appear and you turned over a new autumn leaf. Those chocolate brown eyes came up again; it was like I could see your eyes begin to warm up to answer mine. You subtly, or so you thought, changed your direction to meander towards me.

I was sitting under an oak tree's canopy, its leaves casting patterns over my face, when you walked up to me and stood, bashful almost, not saying anything. I knew there was no need for you to be shy, so I smiled a small smile, hoping it would beam to you the assurance that I was just a little in love with you already.

You said hi so sweetly and with a little grin told me that your name was Matt. I whispered a small hi back and told you that my name was Beth; we stood lost in each others eyes, smiling our secret smiles. I asked if you would like to sit and politely you asked if you may; so I patted the lush grass beside me and you tumbled down beside me- close but not too close, a comfortable kind of space.

There, in our first meeting, I felt that flame spark up, tiny and resilient; it would eventually blaze up to an inferno neither of us could have imagined. It would survive the winds of change and a lack of oxygen that would try to choke us. There would be times when the tinder that had sustained us for so long would disappear for a season and only resurface once our flames were almost extinguished. And all around there was damage; those ashes not as intertwined as ours were used up, beaten down, and diminished.

But it didn't worry us; with gentle coaxing and the soft breeze of nurturing air we would slowly increase in a glow of power, energy, and warmth.

I don't know if you felt it, though. This was only the beginning of Matt & Beth, after all.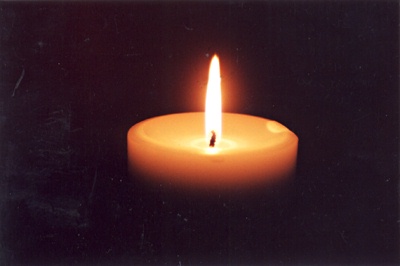 © Ashley D., Philadelphia, PA