the One
March 11, 2019
I escaped as I always do, As we all do. I wouldn't escape into a movie, or music as so many others did.
I read.
Before my reading spree in 4th grade, I was not an avid reader. It's not that I hated reading. I hadn't found the right book yet. I enjoyed reading. Reading was a weird method of escaping, or living someone else's life, reading was my way to find peace in an otherwise chaotic world. I would escape into the mysterious pages that would surround me with questions and theories. Though the books I had were very good they just weren't the one.
The "one" didn't come until I found myself in my sisters' musty room covered in dirt and dead bugs. The room didn't feel gross. It was our-hang-out-spot, our reading place, our freedom. My sister was out, most likely doing chores. The large bookshelf, however, was my constant companion. I had read all of my section. (That was the-boy-books) Yet boredom screamed at me behind the mask of hunger. I fell to the bottom section. The one never looked at. It was the poster behind the door, the notebook at the bottom of the backpack, the jacket in the back of the closet. Those books were the only ones I had yet to read. I settled down displacing the dust and opened one up. Dust swirled around me as I read the first line.
"Try to eat something Will, tomorrow's a big day."
That book forever changed my life. From then on I never went without a book. I was encompassed by a need for more. It was like I was a new person. A pop had gone off in my brain, and I would never let it switch back. The book, Rangers apprentice, was incomparable. I was immediately sucked into the mystery, the conflict, and the poor story of a young and lost orphan boy named Will. He was like me in a way. His struggle through adolescence seemed more like a guide for me, rather than a fictional novel I had happened by on my sisters bookshelf.
The boy Will was on the verge of knowing who he was. He sought a place in the army. A foolish attempt to fit in by moving with the other boys. I never followed the crowd. I used to. I stopped. The book taught me that I shouldn't just follow the crowd. Everyone was special. Before I read that book I didn't realise that. I vanely assumed I could just follow the others. Will taught me to stand out In a way that expressed who I really am. Even then, I needed an escape books satisfied that. From then on that bottom of my sisters' bookshelf was my home, and my escape.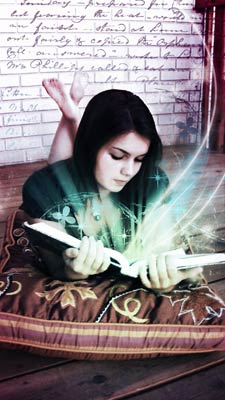 © Zuzanna C., Pheonix, AZ