The Officer
November 30, 2012
The officer spent a lot of time waiting for something to happen. Anything. On the front lines of battle, he waited. Waited for the enemy that never showed. He had assumed that by this time in the war, he would have been dead or at home, the war safely behind him. Waiting wasn't part of his plan. Hadn't ever been part of his plan.

The officer pulled out a cigarette. He fumbled around in his pocket for his lighter, cursing to find it empty. His face flushed with anger and he crumbled the stick in his hand. He ran his hand through his hair and reached into his desk for a drought of whiskey. Nothing. The man stood up, pushing back his chair with so much force that the desk shook and a few pictures dropped from the wall. Cursing again, his feet crunched over the broken glass. He flung the door to his office open and stormed out onto...dirt. He turned around slowly and saw only a small tent. He peered inside and did not see his desk but rather a sad cot and a couple of bags. Some maps and plans scattered across a beaten wood table. His body crumpled in despair. He had been remembering better times than these.

The officer pulled out a second cigarette and was also able to locate his lighter. He took a quick, relaxing puff. Smoke encircled his head like a noose, unforgiving and deadly. He wandered through the camp, staring down the soldiers. The soldiers were no different than himself. Both waiting. Just waiting. After his first two years of servitude, he no longer acknowledged the soldier's faces. All he could see was their skin, cold and dead, icy. Because in the end, that's all that they would be. Just another lonely soul, forever bound to Earth and its mistakes, left behind as carrion to some helpless animal. And he didn't want to see a face he knew lying in a pool of blood. So he had stopped looking.

The officer cast aside the cigarette and found solace in his whiskey. Taking a long, smooth drink, he collapsed on a splintery chair. He straightened his uniform, adjusted his cap.

"I'm still waiting!" He shouted to no one in particular. No one noticed anyway. Or no one cared. He laughed roughly and shook his head. He drained the rest of the flask and threw it into a tent. The officer pressed his fingers against his temples in frustration. His eyes searched hungrily for something new. Something different. Gray ground, gray grass, gray tents, gray soldiers. Everything faded into the background.


Then suddenly, the officer stood up hurriedly. On shaky legs, he stumbled back to his tent. His mind reeling and churning, he tried to keep up with it. He collapsed into the table. Maps and papers floated lazily around the tent. He reached out with greedy fingers and pulled the papers back to him. His face distorted in pain as he realized the obvious. It was a trap. Everything was. Nothing had gone according to the officer's plan, but it had gone flawlessly with the enemy's.

The officer barreled out of his tent, leaving it in utter disarray. He tried to find words to yell at the soldiers, to spur them into action. He tried to open his mouth and say something, anything. But as the rivers of blood gently caressed his boots, his ravenous eyes finally found something new to devour.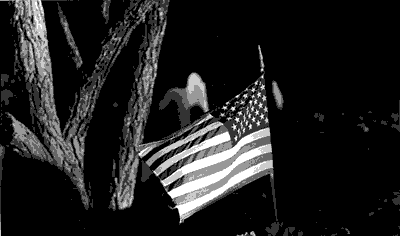 © Photo by Kimberly R., Marblehead, MA