The Grand Story- Prolougue
July 2, 2012
Tulip, who was a plump, brobdingnagian bird the size of a refrigerator, startled awake, curiously gazing at the interesting scence unfold before its very eyes.

"I see it! There it is!" exclaimed a shadowy figure concealed in the darkness.


"The Crystal of Life! We've finally found it!" shouted a woman with dark green glasses, who's position was right beside the other person.

"NO! THOSE AREN'T FOR YOU!" A low, angry voice boomed suddenly, sounding terrified and warning.

The couple pretended nothing had happened at all, still admiring the crystal.

"Oh, just look at the sight of it! Such a pity, a crystal like this would be stolen... but of course, we've waited a long time for our revenge, and now we finally can take over!" The woman smiled wickedly, adjusting her dark glasses.

"How beautiful....." he replied, delicately poking against the glass of the crystal. The magic inside it was released and their only escape route, the hole of the cave, smashed onto the ground with a loud thud, the couple was now trapped inside.

"You will be here for eternity, or else give up!" The low voice came again. This time it sounded like a trade rather than a command.

"Now what do we do?" The woman asked, awfully frightened by the noise and the shut of the cave.

"Let's get the crystal first. We didn't come here for nothing!" The man answered, his smile faltering slightly. They began pulling hard on the crystal, but it didn't budge. The man took out a sharp knife and started cutting against the crystal.

"This will take care of it! We only a small part!" He said.

The cave became mysteriously silent, as if concentrating on only the figure. He then banged the blade against the crystal, but nothing happened. Instead, his knife broke into tiny puzzle pieces right on impact.

"We'll be stuck in here forever!" The woman cried, her eyes widening and her mouth twisting into an ugly frown.

"Don't worry, I still have my cell phone." The man assured the woman, looking perfectly calm. He took out his phone and dialed 911, adjusting it against his ear. Unfortunately, he then was zapped by electricity and was stunned by it. He collapsed onto the ground and the woman's last hope had disappeared.

As the women was sobbing somberly and screaming with anger and desperation, Tulip's two eyes, deep into the cave, glowed with satisfaction. There was a great shriek of terror, a crunch of human bone, a roar of mightiness, and only silence left.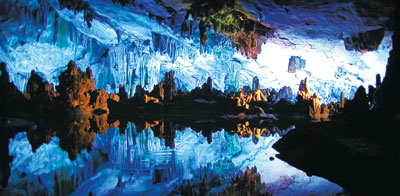 © Audrey G., Phoenix, AZ