What Roger Taught Me
April 2, 2011
It is Friday night, two weeks after my father left for war. I didn't say goodbye to him. That is my biggest regret now. I remember how he taught me to hunt and fish. I had my first catch with him, a small deer with a broken antler. I remember the joy that came along with being able to supply my family's food for the night. I am grateful for what he taught me and how he was such an honorable man. I wish he had come home safely yesterday. A messenger sent the news last week. Father was found dead, a bullet wound through his heart. I have had a lump in my throat the last couple of days. I haven't been able to cry. The tears don't stream down my face like tiny cool, clear rivers as usual. My eyes are dry, red and swollen because of my lack of sleep.
I have four younger brothers and three younger sisters that I must support now. We have quite the large family. I don't know if I can do the work by myself so Charles is helping me. He is the oldest of my younger brothers at fourteen, which is two years younger than I am. We were as busy as bees today, working at Mr. Wellington's house. The sweat was dripping down our faces and our clothes were muddy and wet.

"James, a message was left at our doorstep." My mother yells.
I run down the rickety stairs the nails barely holding up. I pass by the hallway that my father had his decorations on. My mom is starting to take them down. She looks awful and tired. Her eyes are more swollen than mine. Her normal big, robin-egg blue eyes are small and her eyelids sag over them.

I picked up the letter it read:
Dear, James Samuels,
We are very sorry for your loss. We do have a serious request though. As the battle has continued, we have lost many of our men. We do ask that you join our battle to defeat the British. Should you accept this risky request and sign the muster book, a man will be picking up more than a hundred men tomorrow at the meetinghouse in Lexington, at noon. A hard decision it is but we do ask very strongly for your support in the militia.
Regards,


Captain John Parker

I am astonished. How can they even consider that I will accept this offer after my father's death? I consult my mother for advice. She is a woman of strong opinion and she is wise for her father is our town's reverend.

"Mother, the militia is wishing for me to be a part of them."

"James, this is very serious. I will be supportive of whatever you decide. Whether it is to stay in the comfort of your family, or take on a man's responsibility and fight for your country I agree with your decision. My father always says to take the risk and hope to accomplish something greater then life. Your father is gone, so it will be hard on the family but if you come back it will be the greatest experience you will ever encounter."

I think all-night and awake with a decision. I am going to go. I know the risks, about the bloody battles and the hardships that come along with accepting. I am ready. I announce the news to my mother, her eyes show signs of grief and worry. Although my mother is sad, I know I have made the right decision. My mother tells my siblings and one by one they hug me, and cry tears of sorrow and sadness. Charles is the most upset. He looks up to me. He knows the most that by the week is over I could be lying in a pool of blood, my heart lifeless and still. I tell him I will be back, but I am very unsure and unhopeful.

I rode the rusty, red wagon to the meetinghouse. The air is hot and humid and makes me sticky. The sun is shinning at its brightest in a while so the plants are slightly wilting. Little boys and girls play on the road. I remember the days when my best and only friend Lila and I collected stones along the road. I never listened to her, or respected her or trusted her. She told me I wasn't fit to be her friend. Our friendship soon crumbled into pieces.
We exit the sweet part of town and venture into the dangerous area where the outskirts of the battle are a mere mile away. I arrive at the meetinghouse, cautious and careful. I say my goodbyes to my mother and walk into the place. My first observation is that the population of the building is mostly boys my age. I even know some of them from when I was taught at school. The leader tells us to sign the muster book. I write my name, James Samuels neat and slanted. My mother used to make me practice writing and said it would be of good use one day. We pile into the wagon and we are given weapons if something should happen on the ride. I am given an old musket, the handle weak and half-cracked. We travel along the long, muddy, narrow road. As we can faintly see the soldiers in battle we pile out of the cars and run to the fort. We are given a five-minute lecture on how to shoot the gun and strategies. At the end of every week we are to come back to the base and check off our name in the muster book. If we do not return we are considered dead.
We are told to be in groups of two or three. I am in a group with a short, frail boy named Roger Simmons and a strong muscular man named Jackson Harrington. We set off onto the land and I have no idea what to do. Jackson takes Roger in the trees. We crawl and jump over the branches as silent as possible. We see a redcoat coming from the other way. Roger and I duck and BANG! Jackson shot the man right in the heart. He slams back onto a large stump, his head gushing with blood. A pool of fresh blood forms and then his face goes blank with expression. My stomach curls at the sight. I realize that this is what the whole battlefield is going to look like. I think Roger is thinking the same thing. Jackson darts off in the other direction. We follow him but a large tree blocks our view and he is gone. Roger and I are scared and hungry. We go deeper into the forest and collect wild berries along the way. My father taught me which berries I could eat when we went hunting so I practically saved Roger's life when he picked up a poisoness wild berry.

We run through the trees with our heavy guns ready and armed. We find a cave and settle there. We had been travelling non-stop for hours. The sun is beginning to set and we realize we would camp here.
We both were given survival packs. We hadn't really talked yet. We lay on the ground with our packs acting like pillows. We explain our families and almost everything in our lives. I tell him about my father. I think that scared him a little bit. He is silent for a while but afterword I learn about his four sisters Abigail, Ruth, Jane, and Margaret and his brother Alexander. I learn that Abigail is marrying a richer man and that the money will support Roger's family.


"Why did you join the war?" I ask questioningly.

"I forgot to mention my brother is in the war too. He joined the war a week ago and I figured that I should do something that helped my community to give back. Why did you join?"

"My grandfather says to take a risk and hope to accomplish something greater then life. I want to come back and be able to tell my children a story that they can be proud of. I am nervous because I have no father and so many younger siblings."

"Don't worry I'll keep your back. We are friends and I mean I don't really have many of those."

"Yeah, me neither and thanks I'll do the same."

I didn't wake up to chirping birds. I awoke to gunfire. I shook Roger when I heard rustling in the leaves. I see a dozen redcoats in the distance. They yell with their British accents and coming charging at us. I warn Roger and we grab our stuff and run. We take a complex route to loose the redcoats. We are far enough away that we can stop now.

"Thanks, for saving my life James."

"It's really no problem, you will find a way to repay me I'm sure of it."

We see an opening in the woods. We must have gone in a circle. We walk to the edge of the woods and see two incoming redcoats. Roger grabs his musket and shoots at the tallest, most muscular one. We caught him off guard. He falls to the ground. I shoot the other one. The feeling of killing someone is not rewarding. A feeling of guilt rushes through me. Roger can see that.

"Look at what they have done to us. The hardships they have put on us. Think of their awful greediness it will make you feel better."

"Thank you, I'll try it sometime."
A breeze blows and the leaves shake. A chill rushes through my spine and I shiver. Roger gives me his fleece.

"My mother made it. Don't worry I'm warm."

"Thank you Roger, again."

"From my little experience with friends, I've learned it's what friends are for. We must stick together and lean on each other."
I really feel my worries disappear. I think of my family and hope to return. Just then we are shot at. Of the tiny glimpse that I got of where the bullets went they seemed off. I pull him down and we think this is the end. When the shooting finally stops I am relived.
"Roger, it's okay. It's going to be all right. Roger we made it together."
I look down at Roger, a bullet through his chest. His eyes turn foggy and his expression goes blank like the redcoats that Jackson shot.
"Roger! Roger! It's going to be okay, Roger. Come on! Don't worry. You're the best friend I have ever had. You are going to make it!"
The tears pour down my face. This couldn't be happening. He was one of my only good friends and he is gone. I hold his head in my lap and hug him. I remember what he said, "I've learned it's what friends are for. We must stick together and lean on each other." He taught me that friendship is more than just playing around in the road. A friend is someone who is always watching your back and they are when you need them. Roger Simmons accomplished my plan to do something bigger than life. I learned how to be a true friend.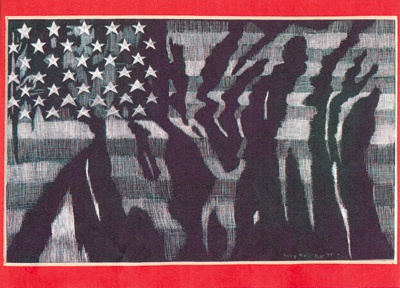 © Haley M., Ellinwood, KS