Virginia Polytechnic Institute and State University
MAG
January 10, 2017
Blacksburg, VA: Knowledge is a powerful tool. With it, students can put together extraordinary creations and explore the depths of the world with careful hands. There is nothing better than having the key to success and greatness placed in your grasp. This is exactly what students have when they attend Virginia Polytechnic Institute and State University.
When I think of college, I think of large buildings, bustling students, and confined spaces. Virginia Tech, however, is completely different from this vision. With castle-like buildings and a prestigious Corps of Cadets senior military college within this public university, Virginia Tech screams tradition.
Virginia Tech stands proudly in the center of Blacksburg, Virginia. The huge campus is set on rolling hills that will definitely give you a workout when traveling from class to class. Though it houses over 32,000 students, the campus is surprisingly clean and new looking. The library is gorgeous, with thousands of books to suit your needs, and most buildings have areas for students to study. The auditorium is beautifully structured with an amazing architectural design. The food, ranking fourth in the nation, is fantastic. There is a brick oven pizzeria and a restaurant on campus that requires reservations because it's that good.
Watching the students on campus is mesmerizing. I admit to being partial to the Corps, but the cadets are truly fantastic. The students share a love for their school, showing it proudly in their attire, and the cadets' attitude showcases honor and ambition.
The Corps of Cadets program has a direct commissioning into the United States military (if recruits meet the criteria, of course). Additionally, this spectacular program offers a Citizen Leadership track that doesn't have to lead into military service. As well, the branch ROTC detachments do not always have to lead to service time, either. The program is for young people searching for structure in their life. Students in the military college live with the other cadets in a dorm called the barracks and perform standard ROTC conditioning. However, they attend classes with non-military students.
What's most important, however, is Virginia Tech's academic programs. With over 70 areas of study, this broad range allows students to choose exactly where they want to concentrate their studies. Virginia Tech has an amazing engineering program with renowned professors, and the College of Natural Resources is ranked number one in the nation. The academics are rigorous and challenge students.
The decision of what college to attend should include whether or not the student feels comfortable in that particular atmosphere, if they can imagine themselves there. So, if you're looking at Virginia Tech, ask yourself honestly: Am I a Hokie?
To find out more, visit
www.vt.edu.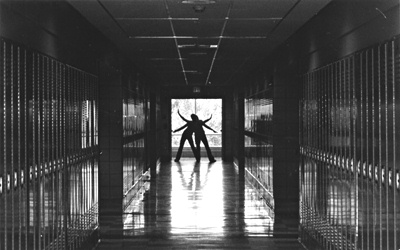 © Sheera G., Marblehead, MA