The Construction of Me
September 8, 2014
How many people can say that their entire life was split in half at three years old?
Unfortunately, a surprising number of people can most likely relate. Divorce rates have skyrocketed and traditional family styles have been altered. I am a child of divorce, a blended family, and a double lifestyle. Having the foundation of your family ripped apart at the seams can be a traumatic experience, and so can the aftermath of learning to adjust to a life including multiple lifestyles and new family members. I have experienced growing up in two separate homes with different values, restrictions, traditions, and parenting styles. I know the benefits of only being grounded half the time because my transgression only offended one parent, the glory of two Christmases, or the expansion of my amazing family. Conversely, I also know the effects of a life where your parents can't so much as handle being in the same room together, the constant negativity towards the other parent, and my late night emotional breakdowns. My past and background has shaped who I am today, and because of these unexpected life changes, I emphasize the significance of personal strength.
My mother is very supportive, involved, and consistent. She has always involved herself in my extra-curricular activities, school business, and personal affairs. Her controlling manner delivers frequent stress and worry, and often is blanketed upon me as well. My mother has endured many struggles in her life and she has proved to be one of the strongest people I know. She and I both have experienced family tension and loss. Her second marriage was full of unhealthy deception, drama from within our circle of relatives, and was concluded with the departure of my stepdad from a fatal accident. These trials in my past have painted scars that will never disappear but have molded the skin of my personality and strength that I take pride in.
My father is very strong, demanding, and carefree. Throughout my life he has slightly stepped back from the involvement in my activities, but still hasn't left my side. He never pressures stress upon me, however my home can sometimes be an uncomfortable mess of dysfunction. He remarried when I was in the middle of my second grade year, and through this marriage I gained two more siblings, and later a third. Growing up with a blended family had all the perks of childhood play and innocence, but also the disadvantages of arguments, discipline, and the actual blending part. Despite the stains of occasional unhappiness, the majority of my childhood memories took place in the backyard of that one story house with all my giggling siblings and smiling parents. My dad was the tough one, the no nonsense or emotion kind of person. I wanted to be my father's cowgirl who didn't cry, so I tried to shape my personality to avoid all emotion.
My family is severed but I am whole. I am scarred but breathing, and damaged but strong. My character was constructed from the experiences of pain and joy that were bestowed upon my youth. I may be empty in understanding the reasons for my pain, but I am fully lit with the delight and joy my new and consistent families bring me. My story doesn't define who I am, it only defines where I came from. I am not a heartbroken child like divorce, I am not a lonely and empty vessel like a separation, and I am not a hollow darkness like death. I am a mess of triumph and trial. I am afraid of car accidents, confrontation, fighting, and tears. I am confident in leadership, advice, and inner strength. I am a warrior, and I am fighting for happiness. I am not my past experiences, but those experiences have made me, and that is my identity.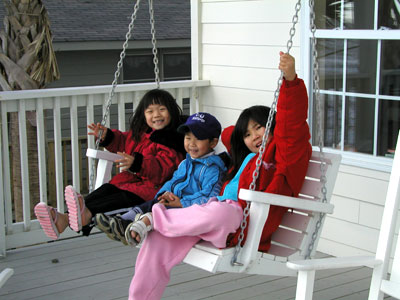 © Annie Y., Northborough, MA