The Old Man and My Cow Suit
November 14, 2013
Hello, my name is Vincent, and I learned one of my biggest life lessons while being in a cow suit.

After 18 months of working at Chick-fil-A, I became jaded about the smell of chicken nuggets and French fries. I had never in my life seen the "five second rule" applied so adamantly when customers were not watching, and I have to say, getting to smell previews of Cplorado's Amendment 64 during breaks from time to time was definitely "too dope." I even got lucky enough to get "coned" a couple of times, a come-and-go fad that my fellow teenagers seem to get a kick out of by smashing their ice cream cone into their server's hand and then driving away.

By all means, slaving over hot frying pans and dealing with impolite customers taught me a lot. Money doesn't come easy, and the real world isn't nice. But that's cliché. My real lesson came from standing on the curb in the Chick-fil-A cow suit, sweating the Colorado River down my face while attempting to attract customers.

Nearly everybody I worked with dreaded having to be on "suit duty." It's hot, it's secluded from coworkers, and quite frankly, it's boring. But one day, an elderly man smiled and waved at me through his window as he drove by, and then it hit me. I didn't have to resent this job so much. I heard the relentlessly repeated words of my mom throughout the years ringing in my ears: "Is the glass half empty, Vinny, or is it half full?" And suddenly, those words finally made sense. That old man I saw, he looked so content. It was etched into his eyes and written into his smile. I realized I wanted to look back one day and feel that I achieved that same happiness. I realized that my misery—or my happiness—was a choice that only I could make. I realized that I needed to begin making the best of the curve balls life tends to throw my way sometimes.

Every day after that, I became more emphatic while standing on the sidewalks attracting customers. I waved with more enthusiasm, and even danced around at times. Even though I was aware they could not see me through the giant cow head, I did not care—I started genuinely smiling at every person that passed by, and my new attitude carried out of the suit and into the other aspects of my job as well. Even though I was still weary of the redundant tasks of working in a fast food restaurant, I realized that I had the sole power to make the most of it. And that is exactly what I did, and plan to continue doing, even outside of the workforce. I got lost while driving once, fairly soon after getting my license, so I took the chance to explore new places. I forgot the rough draft of my English essay at home one time, so I was inspired to write something better during class. I didn't score as high as I would have liked on the ACT test, so I seized the opportunity for the admitters at Metro State University to get to know me, as a person, a little better through a reflection on my first job.
My glass is now half full, thanks to the old man and my cow suit.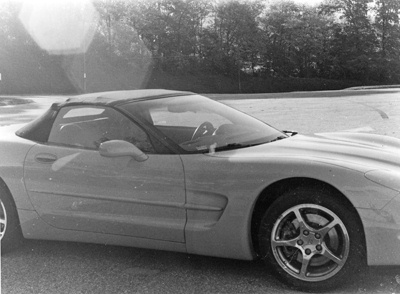 © Sylver S., Milford, CT