Just Give Me a Chance
MAG
There's a girl who's not your ordinary girl, by any means - she's been through a lot more than you could imagine. This girl not only has faced miles of hopelessness, years of pain, and an ocean of sorrow, but also has been drowning in her own tears looking for an escape. This girl has taken on challenges with fear and fury. This girl is 17 years old, and every one of those years held a new obstacle to overcome. With her eyes full of betrayal and a heck of a fake grin, she doesn't complain. From four elementary schools to a middle school and three high schools, she's been through it all. She has been a "mother" to her brother, an angel to God, and a lost soul all at once. She is ambitious, outgoing, and will help anyone who needs it. She strives for the best and even what she can't have. She wants a chance, a chance to make a difference. She has a story, one that should be heard. This girl is me.

What do I have to lose? Here I am, with a mind full of thoughts, a stomach full of knots, and a pounding migraine, but that's not going to stop me. I am Jaimee, Jaimee Koryn. Where to begin? I could write about how hard my life has been, how depressing, lifeless and overwhelming the world seems, or how many schools I've been to, or how many houses I've lived in and with how many people. Or maybe I could just tell you about how I have been betrayed by two fathers, and then my beloved mother, who overdosed and tried to commit suicide? Or, even better, I could tell you how my stepfather's prescription drug and alcohol problems have affected me. I could ramble on about my best friend's death and how I watched my brother be taken from my mother and given to my stepfather. But no, I'll save you the time and empathy.

I may sound blunt, or even rude, but don't judge me just yet. Really, I am shy, quiet, and never disrespectful. I am unique and have been through a lot. That might make me fragile, emotional, and a bit sensitive, but I seem to manage. Confused as I am, I know what I want and what I can accomplish.

What I need right now is not sympathy. What I need and want is a chance, a very big chance at this four-year school. I know, trust me, I know I shouldn't be setting my goals any higher than a two-year junior college with my 3.0 GPA. Well, to tell you the truth, the person from my freshman to junior year hasn't been me. I haven't exactly been able to show my true colors.

I have been buried in everyone around me. I am not like the many who don't care about school and are enthralled with drama and the whole high-school scene. I consider myself the opposite. You wouldn't see me at a football game or a pep-rally; I would probably be taking care of my brother. I have things to deal with in my everyday life that few 17-year-olds do. I have been knee-deep in problems, whether my family's or mine. There hasn't been just one bump in the road for me; I am on a never-ending road with a bump every mile, a road that doesn't seem to be going anywhere.

During my high-school career I have been so consumed with taking on responsibilities and family issues that it seems as if my whole experience has passed me by. More than anything, I would love to replace my grades these last few years, but I know that is impossible. At least I am here now, determined as ever, writing this so-called "college essay."

Who knows, maybe if I even had a chance at an average high-school life, I would still be where I am today. I am not saying I could have been the outstanding or ideal student, but I know that my best isn't what I have demonstrated. In fact, I feel as I have accomplished almost nothing. It was impossible for me to run my family and be a student at the same time.

I strongly believe that I deserve a chance at this four-year school. I know I can make a difference, that I can turn my life around, and I know I can turn my fake grin into a beautiful, satisfied smile.

I'm positive that you receive essays like mine every day, but mine is in many ways unlike anyone else's. I have been debating writing this for a very long time and finally now, at the most wrong time possible, I am writing it. You might think this school needs people who strive for the best, have extra-curricular activities and sports, as well as perfect grades and off-the-charts test scores, and I couldn't agree more. I can't tell you that I have any of those, but I am capable of anything and would be grateful for an opportunity to show you.

I would be absolutely honored to be accepted at this university. I do not want your sympathy, because I know I will soar to places never dreamed of, even if my wings are clipped. Because for me, and my life, it's a different story, a story without an ending.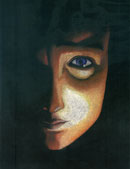 © Anonymous