Black Belt
March 12, 2011
It was a February afternoon in South Carolina, and despite the fact that it was still chilly outside, sweat was dripping down my face and my feet stuck to the red mat upon which I knelt. I was facing my instructors, many of whom had worked with me for the past few years and brought me to this point. They were all sitting behind a long table in front of me, holding clipboards, each one of them taking turns speaking. Every once and a while they would glance at the clipboard again and say more. I was only half listening to what they were saying, and even now I can only remember bits and pieces of what they told me. The other half of my mind was preoccupied with what could clearly be seen on their faces. They were disappointed. I had failed.

As I look back now, I realize that this was the first time I had ever failed at something into which I had put all my effort. I was a good student and I always worked hard to earn my grades. However, karate was different. I am not a naturally gifted athlete. The reason I started taking karate was because a friend of mine gave me a coupon for one month free. After just a few weeks of classes, I knew I loved karate. After a year, my ultimate goal became to earn my black belt.

On that February afternoon, I felt crushed. I sobbed the entire car ride home. My years of training and practice felt worthless. I could not understand how I could have come so far only to fail. I had trained almost every day for months before the test. This training included numerous extra lessons with instructors as well as practice at home. The test was usually four to four and a half hours long. I failed after the third hour, more than halfway through the test. I was exhausted and I could not wait until the test would be over and I could go home. I remember thinking, "Only one more hour and I'll be done" right before I was called over to the instructors' table.

Not only was my failure devastating, it was also humiliating. Three other people failed that test, but I was the last one and I was sent home hours after they were. All my classmates watched me step off the mat and leave as they continued on to get their belts. I remember my first day back in class after the test. I walked up to them before class started to join their conversation. They greeted me and the whole group fell into a brief awkward silence, as if they were unsure of what they should say to me. My old red belt seemed inferior to their new black belts that they tied proudly around their waists.

It was also very difficult for me to face my instructors. One of my instructors had put a lot of extra time into helping me train for my belt. She had spent countless hours watching me spin hook kick a target over and over again during an extra lesson until I had perfected the kick. She was one of the instructors who sat behind the long table and watched me fail my test. I felt like I had failed her and all the other instructors who had worked with me since I was ten. I felt as if all my years of classes and learning had culminated to this point of failure.

However, I knew that these feelings would not defeat me. All karate students adhere to the black belt principles: modesty, courtesy, integrity, self-control, perseverance, and indomitable spirit. This failure was merely a trial of the last two principles. Before this failure, I could only provide the dictionary definitions of perseverance and indomitable spirit. Now I think they are best summed up in the words of Washington Irving: "Small minds are tamed and subdued by misfortune, but great minds rise above it". Even during the car ride home from my test, earning my black belt remained my goal. Quitting was not an option. I made sure that I was in class the first week after my test, ready to train harder and try again. I had even more lessons than I had for my first test. I also started fitness kickboxing classes two times a week to improve my endurance. Before I knew it, it was August 2008, and I was stepping onto the mat to test for a second time.

The test started around 7:30 pm and it ended around 11:00. Although my endurance was better this time than it was before, I felt awful and by the third hour my hands were shaking and sweat was pouring down my face. It was the most difficult challenge I have ever faced.

I am currently a first-degree black belt at Upstate Karate Martial Arts Center and I am working towards my second degree. I know from this experience that failure will not make me give up on what I love. Many great leaders have failed, been ridiculed, and continued to stand for what they knew was right. Their failures only make their stories stronger and more amazing when they succeed. At the end of my second test, one instructor who has been with me since my first week of karate used me as an example of perseverance and pointed out to everyone else that I deserved my belt because I had refused to give up. When I tied my black belt on for the first time, I knew it meant more to me then than it would have if I had passed my first test.

I wrote in the first paragraph of my essay that I cannot remember what my instructors said to me after I failed. This statement is true; I can only remember fragments of what they said. I remember they all told me not to give up, to keep working harder, and to try again. However, one of my instructors was silent the entire time and made one brief statement before I was about to go. I still remember his words clearly to this day,
"I'll see you next week in class."

I have a passion for learning and a desire to succeed. I want to serve others. I have a passion for literature and writing and I hope to instill this passion in others by becoming a teacher or a professor. My black belt test has been the greatest challenge I have faced in my life, but I hope there are much greater challenges in my future. As I have proven throughout my life, I will work tirelessly to achieve my goals. I know with certainty that I will persevere and nothing will stop me from pursuing my passions and beliefs. My next goal is to attend a university that will expect nothing less.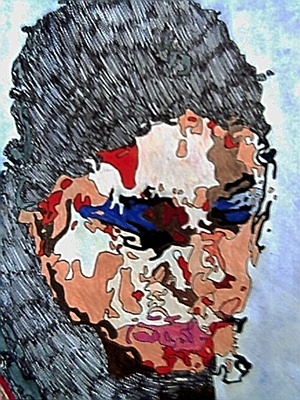 © Sarah A., Morristown, TN