the perfect doll
September 3, 2010
In 1959 Ruth Handler altered the world of children's play. The introduction of the Barbie doll coincided with the aspirations of young girls to be whatever they dreamt of. In this crazy world of make-believe, we are taught what is expected of us. We are supposed to exceed expectations. We are told to do the best we can, but really we are in constant competition. Competing to surpass our limits, to be passionate about our beliefs, to respect others. In this world of make-believe I was hiding. Hiding behind the doll that would always be more perfect than I would ever be.

To this day, I hold true to the little girl I once was, the little girl that will always be close to my heart. I loved dolls, Barbies in particular. I would sit for hours using a little brush to make sure the dolls' hair were perfect; shiny and smooth and falling in just the right direction. I wished I could grow up looking like Barbie. She was tall; she was skinny. She had Ken always by her side along with her trusty companions; everyone loved Barbie, everyone wanted to be her friend. Barbie was an astronaut. She was a mom, a teacher, a doctor, and a veterinarian. Barbie was my role model, my superhero. But when you're done making believe, what's next?

Not being able to adjust to a high school in which I knew very few people, in which I was a minority in class and religion, I needed someone to turn to, something to turn to. An outlet that I was no longer able to get from school. The 12'' doll no longer represented my hopes and dreams. She was the icon of my insecurities. I wasn't skinny, or supermodel beautiful. I didn't have a loyal sidekick, like Ken, and I was far from having anything like Barbie's line of companions close to my side. As my self-confidence diminished, my sense of loneliness and depression rose increasingly. With nothing left to lose I began to attend meetings of a local Jewish youth group, BBYO.

After four years in this amazing organization, I can proudly say that I found myself. I currently hold the position of my chapter president and I have never felt more of a sense of accomplishment. In this "world of BBYO", age doesn't matter. Everyone is accepting. It wasn't until a recent 5-day regional convention that I truly felt I belonged. I sat in a close circle of 15 other people; boys and girls, all different ages. We each had two minutes, which seemed like an eternity. You could speak or sit in silence, but the two minutes were yours. We started with this, "If you really knew me…" If you really knew me, what would you know? We poured our hearts out. Family troubles, school issues, medical problems. A group of 15 teenagers who weren't friends, shed tears for one another.

Moments later everyone reconvened. We stood in a circle, 127 high school students standing arm in arm. "We all got a life to live. We all got a gift to give. Just open up your heart and let it out!" We all sang as silver teardrops raced down our cheeks. This was my family. We were there for each other through the difficult times. They were my support system when life tried to knock me down. I had a place I belonged-- an escape from high school drama and the stress of AP classes.

Maybe I could still relate to Barbie. Sure she has it all, but was it always that way? Before the iconic doll was accepted as a young girl's best friend she was rejected and knocked down by parents, stores, and toy buyers all over the country. She was a mockery at the New York City Toy Fair and yet she didn't give up. When I was little, Barbie stood for the person I wanted to be. She had it all. This BBYO convention made me realize that nobody has it all. There have been numerous times I stared in the mirror and wished to be somebody else. I am now aware of the suffering and distress that is present in everyone's lives. Maybe, just maybe, somewhere in the world there is a teenage girl staring in her mirror wishing she was me. I can finally be confident in my own skin. Barbie now represents a fighter. She didn't give up and she finally gained respect. That night of the convention I got a word of advice. You must always love yourself. You can try to impress others but in the end, you live and die as an individual. Your self is the only thing that matters. In this world of make believe, I feel no need to hide.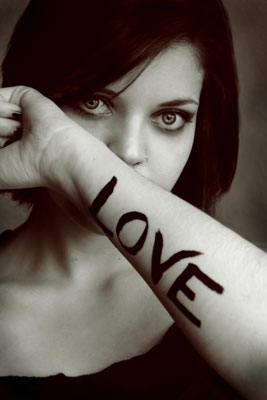 © Michelle B., Blairsville, GA