The Course of True Love Never Did Run Smooth
December 22, 2020
Love is ordinary. Connecting every soul from birth to death, it becomes an inseparable part of humanity. The complexity of its concept, however, has long puzzled even the most brilliant minds. For instance, in The Symposium, as famous orators gather together, attempting to uncover the truth of love, they fail to agree upon one single idea. The inconsistency of their views urges readers to wonder: whose explanation, if any, most accurately reflects reality?
Ostensibly, Socrates's justification of love appears the most convincing. By demonstrating the relationships between different stages of longings, the philosopher depicts romance as an ascending ladder, which enables lovers to transform their carnal desire into an appreciation of beauty itself. His bold argument features eros as not only the outcome of instinctual desires but also the only path to encounter the finest view of humanity. Overall, Socrates's speech justifies the intellectual aspect of love.
But this seemingly undefeated theory has an unexpected competitor. Preceding Socrates's speech, Aristophanes has already presented an even more powerful image—the ancient myth elucidating the origin of eros. The depiction of humans as rounded creatures rambling around the earth immediately demands one's full attention. Then, as the story culminates in the wrath of Zeus, all men and women are bisected by his lightning bolts. The drama, however, does not end there. The subsequent scene, in which separated partners reunite with their beloved ones, astounds us with his unique vision of what love feels like.
Indeed, love, nothing more than people's instinctive desire for completion, is irrational: we can never control whom to love or whether to love. The irrationality of eros not only complies with the paradox of human nature but also highlights the unique beauty of humanity. Because rationalizing such an intuitive feeling contradicts its character, one should never approach love with justifications. Therefore, no abstract theory can ever depict such an inherent affection so vividly like Aristophanes's story. Directly bringing us into the realm of emotions, this talented speaker enables his audience to catch a glimpse of love's truest yet most ordinary form. Just like how romantic relationships impact lovers, his words deliver a feeling of that indescribable affection. At last, only Aristophanes succeeds in illustrating the essence of love.
Ironically, the most bizarre narrative best reflects reality. Through an eye-catching myth, Aristophanes enables readers to immersively perceive love. But because such emotion is elusive, even the most brilliant speaker fails to proceed further in revealing eros's real identity. After all, love's true form exists beyond words, and in order to achieve a sense of completion, we will have to begin our journey.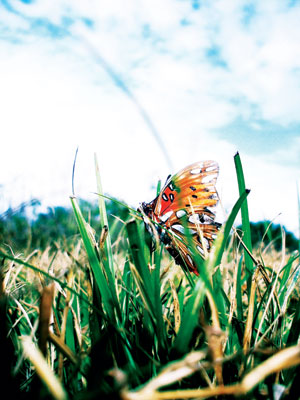 © Ashley B., North Port, FL