Curly
February 8, 2020
Ten years ago, one little thing in my life became different, changing my life forever. My long, pin straight brown locks of hair suddenly sprung up into curls. As the years have gone by, my hair has continued to transform into tighter and tighter curls, making me become known as the "girl with the curls".

Now hair isn't something you can control. It's simply genetics playing their part. Even so, my hair has played an important role in my life. Years ago, my frizzy, messy curls were the source of many insecurities. I felt weird. As a young kid, all everyone wants to do is fit in, and my curls were nowhere near normal at my school.

As I grew older, though, my attitude began to change. After moving out of my dad's house, I became more confident and outspoken as I found new groups of people who were positive and supportive. And my hair changed too - giving it a fresh cut and seeing the curls start to come to life. As I moved up to high school, I joined a dance team and began to pursue my great passion for dance. My curls seemed out of place at competitions full of girls with shiny straight hair, but this gave me an edge. My hair was different from everyone else, but I danced different too. I've always been creative with my movements in dance, blending styles in ways that no one else on my team did. Dance has allowed me to become more confident in my creativity and abilities throughout high school. And as I moved through high school, I grew out my now healthy, bouncy curls until they overtook my head.

My curls used to intimidate me, but not anymore. They stand out, and I'm glad. My hair's journey represents my journey to becoming creative and independent, and to not be afraid to look or do things differently than others. We don't choose how we look, but we choose how we act. I choose to be a curly girl - intelligent, a little witty, creative, and always confident in myself.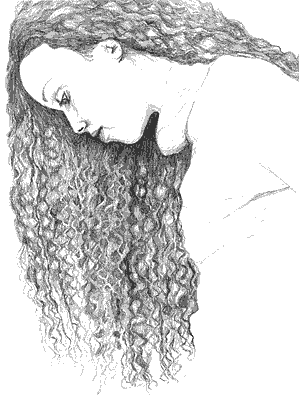 © Andrea S., Oakhurst, CA