Living on a Wave
April 7, 2019
I believe life is a surfer on wave. You never know exactly what is going to happen. No matter how much planning you do, life will take you on some crazy rides that were never expected. You may find yourself tumbling and spinning out of control, dragged under by your board, or you may be on that smooth ride after having dropped in. No matter how calm or choppy, the water is always the decision-maker. The surfer is just along for the ride.
When I was fifteen years old, I was forced to withdraw from one of the biggest tournaments in my USTA junior tennis career. This was a Level 2 Regional Tournament, played in Surprise, Arizona. I was in the big leagues, riding the harder waves with heavier drops. In some sense, I did not yet feel like I fit in at this tournament, especially when I kept winning. In my mind, I was the amateur surfer trying to hang with the locals. After two days of pushing myself and competing against players from around our region, I made it to the semifinals of the consolation draw. This was a huge accomplishment and, may I admit, a little unexpected.
I went to bed Saturday night knowing that my match the next day was very important, and I had a good shot at pulling it off. When I opened my eyes on Sunday morning, I gasped from pain. My back was so tight I could hardly breathe. It was as if a wave was dragging me under and spinning me in circles. My mind was racing, trying to think of what I could possibly take or do to stop this pain. I slowly but surely got up, finally making it to the top of the water, where I stayed for a moment to catch my breath. I slowly made my way to the bathroom, half bent over, trying to decide what to do: to play or not to play. This was an easy decision, however, as I follow the motto, "never quit." My parents have raised me to always fight and play my hardest no matter the circumstance. After downing a couple Advil, I decided to get dressed and pretend the pain was not there.
Arriving at the tournament, I began my warm-up. My mom fed me balls, and I ran laps to get loose. Usually this plan worked; however, my body proceeded to become more tight, and the pain increased to an unbearable level. I started my match but did not finish. This was a match I could have won. I kept paddling and paddling for the waves but never caught one. My goal of winning the backdraw of this tournament was unachievable, again. Crying, I walked up to the net and told my opponent that I was withdrawing from the match because of an injury. This was one of the hardest things I have ever done. I hobbled off the court, crying from pain to my mom, who hugged me for as long as it took to stop the tears. Water pounded me on all sides. I thought I was drowning and struggled to surface. I was in a dark place.
My mother got me into Mayo Clinic within the week. I had ten separate tests and was talked to by countless doctors. I missed almost a week of school, which was very hard to make up as even an injury like this was no excuse. After the test results came in, my worst fear was confirmed. The doctor sat us down and said, "We believe that your daughter has AS, which stands for Ankylosing Spondylitis. This is a genetic disorder that can be seen at any age. Her cartilage is deteriorated in her upper and lower spine, which is why there is pain. There is also another cause that may be plausible. Tennis may be a large factor in this injury. Improper form or constant practice may have caused the breakdown of cartilage." Of course, my family and I had a million questions as he went on to explain these factors in more detail. Most of all, it frustrated us not to know the true cause. We learned later that the test results from the MRI, bone scan, and blood tests all conflicted. The MRI and bone scan hinted towards AS while the blood tests showed no genetic pattern for this disease. I was devastated. At this point, trying to find air and trying to reach the surface of the water became unimaginable. I was so wrought with depression and sadness at the thought of never being able to play my sport again that I was quickly losing motivation for anything at all. In my head, there was no surface to breathe.
My parents played a large factor in what was believed to be my recovery. I began exercising in ways that did not hurt, which meant mostly light weight arm exercises and stretching. To go from practicing hard for hours each day to basically only stretching was a major change in my life, but I pushed myself to try to gain confidence and positivity. The surfer slowly learned that falling off these massive waves was not the end of the world. There would always be another wave to ride, and although dangerous, sometimes risks are worth taking. Making improvements and staying determined were my main goals. I did not give up. Although sometimes I was discouraged, I told myself that I would be able to play tennis again. My parents finally agreed that I could start slowly hitting. This made a world of a difference in my emotional state.
Four years later, I am currently competing on the Arizona State Club Tennis team. We are preparing for nationals in April, having just placed second in Sectionals. Looking back, if I had not chosen to stick with my sport and commit to my passion, I would not be competitive nor have met my closest friends. It was hard to regain the surface and keep paddling for those waves, especially the bigger ones that introduced fear into my mind. By staying committed, I finally rode the biggest wave of the day all the way to shore and realize just how fortunate I am to be here today.
Yes, sometimes there is still pain; however, the pain is insignificant because competing with my friends is of greater importance. Thanks to my injury, I figured out just who I am and have a deeper appreciation for my sport. My passion for tennis has grown since coming to college. Each time I am on the court, I am riding that wave. Surfer's stoke or peace of mind is what I feel when I walk into the stadium. I am fortunate to enjoy practicing and competing at age nineteen. Through hard times, I lost my fear and gained gratitude for what my body is able to do.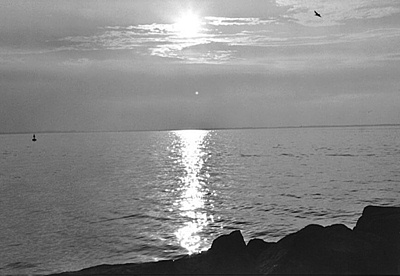 © Amanda L., Cumberland, MD