Are the Members of PETA Journalists?
November 10, 2014
At this moment there are millions of animals being electrocuted, tortured, and mutilated. Two huge administrations in the U.S. are responsible; the Environmental Protection Agency (EPA) and the Food and Drug Administration (FDA). They look away as these innocent creatures are put through inhalation chambers, electrocution, fluoride testing, and even few being baked alive. This is all lawful for the purpose of curing human diseases, testing cosmetics, and testing the safety of household products - even though none have been proven to effectively find a resolution.
All of these truths weren't known until around 2008 thanks to the number one leading animal rights activist group called PETA. With 3 million members across the globe, they spent every second and every breath committed and devoted to helping these animals. Digital media is used heavily to provoke emotion and heart-break in people all across the world. They break stories every day concerning new abuses happening in the animal world. Though none of them have specific journalistic backgrounds, they all have one passion - getting the truth visible to the public!
Since PETA covers all of the breaking news happening in the animal world, are the members of PETA considered journalists? Dan Gilmor asks this same question in his article, "Who's a journalist? Why does it matter?". PETA's members are true advocates for the rights of animals. They are not credited craftsmen of journalism. However, they do contribute to journalistic thoughts. I think that is key in deciphering who is a journalist or not. Bloggers and web commentators are often put against in comparison with journalists. The truth is, they both are writing about something that is passionate to them. Sometimes, people other than journalists have more knowledge or expertise in certain areas of interests. Most journalists are given stories rather than having full knowledge of them. The question if bloggers or commentators are journalists shouldn't be one to ask. We should be more focused on on the actual material, stories, and news being put out there and which is more effective to the public. PETA out of many news programs and online publications has created the most awareness to an issue and provoked the most emotion. As in Michael Schudson's article, "Was There Ever a Public Sphere?", he talks about how important it was to provoke emotion and get a reaction from the public about certain campaigns or stories. Not only does PETA give us the truth about what goes on behind closed doors, but they do it in such a emotionally provoking way. And after all, shouldn't that be what an article does to a reader? PETA has crafted not only their journalistic thoughts but have also crafted the opportunity and usage of digital media. They have a broad range of campaigns that can appeal to any person, all including things to do with animal rights. PETA has been bold in their stories by being very upfront and blunt about the people or corporations responsible for these cruel acts done to animals. Ultimately, yes, the public decides what to do with the information, but there is not one dry eye when a viewer comes across a PETA story or article. That is what true journalism should be about - having the voices of the voiceless be heard. Not only does this fit right into what PETA does, but we can also learn from their activism and apply it to journalism. All stories need a voice and need to strike a viewer/reader in a deep way. And to be truthful, I think the members of PETA are the most honest, real, and hard-hitting journalists out there. They work and breathe for their passion of saving animals and to me, that is a true journalist - someone who cares about a situation, writes about it, gathers information, and informs the public.
In the article, "Twilight of Objectivity", Kinsley brings about the so-called "fact" that most viewers of news want strictly facts. Kinsley also states that even the most horrid things cannot be opinionated. As a member of PETA and a strong believer in their core values, I have to strongly disagree with this. The most horrid things should be opinionated and made aware, especially with an activist group. The public should be informed and made aware about what is right and what is strictly wrong. Not to say that the media should control the public and their way of thinking, but they should expose the media to the horrors of what happens out in the world and therefore state that it should not be happening. PETA comes under much scrutiny for their bold tactics and uses of graphic images and videos. This blatantly shows how emotionally-hitting the truth can be and how if one person was not opinionated about this topic, no one would have ever know these acts were going on. In conclusion, there cannot be objectivity in a situation where something is so terrible and tragic.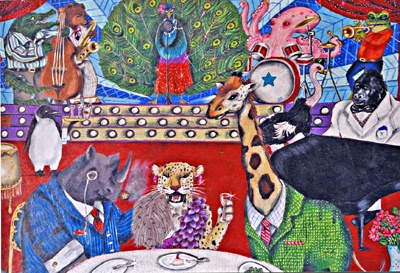 © Jacob S., Kannapolis, NC