College Admissions Amidst A Global Pandemic
January 23, 2021
High school students all across the country have been greatly impacted by the pandemic, not just from an emotional standpoint but an academic one as well. With many extracurricular programs canceled, SAT testing sites closing down, restricted interaction with teachers and a new impersonal style of learning, college admissions during the COVID-19 have been subject to much uncertainty and anxiety.
"At this point, I don't even know what I can do," says Apeksha, current junior. "Teachers are piling on more work than I've ever had before, and I'm constantly feeling overwhelmed. All the internships and activities I had planned for this year have gotten canceled. Meanwhile, I'm still trying to study for my SAT, my AP exams, and plan for the summer- and I'm just trying to keep my mental health in check."
Many students are under the same amount of stress that Apeksha describes. During these unprecedented times, college admissions seem to remain in a grey area, and it can be disheartening for students to deal with the added pressures the pandemic has brought to the application process.
According to data from the National Student Clearinghouse Research Center, undergraduate enrollment at elite universities has fallen over 4% this year, with incoming freshmen making up the largest drop of 16% since last fall. With many US students taking a gap year and international students unable to enter the country, many officials fear the repercussions this will have on the college application process in the following years. This could drive acceptance rates higher for the 2021-2022 academic year, claims Angel Perez, the CEO of the National Association for College Admission Counseling (CNN).
The question also remains- what data will colleges be using most heavily in their application process? Will SAT scores hold more weight- of which many students have been unable to take? Will there be a greater focus on extracurriculars, despite the cancellation of many pre-COVID activities? Or will the focus be primarily on essays and personal character?
Whatever these "answers" may be, the multilayer depth to college admissions during this pandemic must continue to be explored and broadcasted to all students.
Standardized Testing
The SAT and ACT- everyone's least favorite part of the application process.
These tests have been in place since the 1920s, and this is the first year that such a radical change has been taken to the future of standardized testing. Over half of all 4-year universities in the United States have waived test requirements since the beginning of the pandemic, including the Ivy League school system, UC system, and many other prominent private institutions (Future Ed).
But how are these actions really going to affect the application process?
More than 1650 schools are falling under "test-optional" policies, in which students may submit their SAT scores only if they choose. There is a widespread fear that those who choose not to submit scores or are unable to retake their tests will be disadvantaged in the long run compared to other students. "They don't believe optional is optional," says Bob Bardwell, the executive director of the Massachusetts School Counselors Association. "They don't trust the process" (Boston Globe).
Many individuals continue to debate the use of standardized testing in the college admissions process, where students with greater financial means are automatically advantaged in access to resources and test-prep. They also fear that the pandemic is exacerbating the divide; with testing sites being shut down all across the country, students in harder-hit areas are more disadvantaged when it comes to testing opportunities.
This is not to say, however, that colleges will not be understanding. In fact, over 400 colleges have explicitly stated that "they will not penalize students for the absence of a standardized test score." (NACAC).
While these claims may seem ambiguous, elite institutions pride themselves on their "holistic approach" to college admissions, and therefore students must not worry about their SAT/ACT (or lack of) exams as detrimental to their college applications. Students are advised to take these standardized exams if they have the opportunity to. However, with the new policies being undertaken by US universities, test scores will begin to hold significantly less weight in college admissions. Therefore, SAT/ACT exams will not be the deciding factor in the college admissions process, nor a pivotal measure of academic intelligence.
Extracurriculars
Extracurriculars are another key aspect of college admissions, one that many students fear has dropped since the onset of the pandemic.
Extracurriculars speak to a student's passion, interest, and intellectual curiosity. For many elite universities, they are a measure of the impact students can make outside of the classroom. However, come March 2020, offices began to closed, internships were canceled, summer programs were shut down, and school clubs were partially moved online.
"This was a really tough period of time for me," says Francesca, junior. "Not only was everything going on outside really overwhelming, but all the plans I had for my upcoming year were just gone. My internships were canceled, my basketball and lacrosse season postponed, and my annual trip to Italy wasn't happening anymore. I was stressed out every day- like what could I possibly do?"
Extracurricular opportunities have been disrupted all across the globe, making college admissions seem that much more stressful to students like Francesca. However, while they may have to take different forms this year, not all hope is lost in the pursuit of outside activities. "The coronavirus is obviously a catalyst for change and good change," says Rick Dalton, CEO of CFES Brilliant Pathways, a nonprofit dedicated to helping students navigate college admissions. "We're going to struggle, certainly in the initial phases of these changes – but that's OK, that's part of learning."
Students can find many other non-conventional ways to pursue their passions outside the classroom. Whether those be online internships, phone banking, coronavirus contact tracing, journalistic writing, or simply (remote) school clubs, the pandemic doesn't signal the downfall of extracurriculars. Moreover, many students neglect their familial contributions- such as caring for siblings or working to earn family income- as meaningful to their story as an applicant; as these activities demonstrate character and compassion, they are just as important as any academic internship.
Overall, the "holistic approach" to student extracurriculars will certainly apply- if not more- during this pandemic. Colleges are understanding of the limited resources high school students are working with, and as long as they remain creative and continue exploring their passions in whatever way is possible, applicants will not be penalized or disadvantaged.
"What we've been saying and a lot of admission officers are saying is that (not participating) won't be held against a student in the admission process," says Eric Nichols, vice president of enrollment management at Loyola University Maryland. "We don't want them to invent ways to be get involved when, understandably, they may not have that ability because of what's going on with the pandemic."
Grades
High school GPA's are arguably the most important factor weighed in college admissions- the baseline that signals to colleges whether students can handle the academic rigor of their institution.
Remote learning has completely changed both the learning and grading systems for all students. Many students continue to struggle under the new impersonal model that is virtual learning. Students with numerous familial obligations are also forced to take on more work around the house, while still having to balance school, extracurriculars, and their own mental health. As a result, class failure rates in schools across the country, from Virginia to Hawaii, have continued to surge, particularly among low-income students of color who have learning disabilities, language barriers, or family income responsibility (USA Today).
To counter this, many schools have switched from numerical grades to adopting a pass/fail system. This system is a lot more forgiving to students who have witnessed plummets in their GPAs over the later months of 2020, and it may help to minimize the negative effects of the pandemic on previously high-achieving students. Other schools have taken less drastic approaches by simply changing their grading curves: placing less significance on assessments and more emphasis on participation and class engagement.
As colleges begin to evaluate their next round of applications, they will holistically take into account the situation of each student. "If your school decides to move to an alternative grading system (i.e. pass/fail, credit/no credit), our office is fully prepared to accept these changes as made by individual schools," says the Brandeis University Admissions Office. "Any information explaining these changes is always welcome, whether on the transcript itself or in a communication from your school counselor."
High school GPAs will continue to be an important factor in the college admissions process, but with each school taking its own unique approach to the sudden switch to virtual learning, each student's academic performance will be holistically reviewed- including the strength of their transcript, consistency in course performance, and relative course rigor- in comparison to those around them.
Essays
Essays are one of the only components of the application that has remained unchanged by the pandemic. In fact, while test scores, extracurriculars, and GPAs have all become subject to speculation, essays will likely hold more weight in the coming years of college admissions.
*Sourced from RISLA on College Essays
This section is the one place that grants students the opportunity to share their stories with the admissions office, the stories that aren't told by a grade-point average or test score. They also help bring a student's application together cohesively and explain any information that is worth evaluating to the admissions office. For example, familial responsibilities, applicant backgrounds, or future career motivations are all great things to include in the essays.
Essays are also a great way to demonstrate personal character, a component that will likely be examined in greater detail as a result of this pandemic by admissions officers. Students can use this section to demonstrate who they are and how their experiences have shaped them as individuals.
Speaking of experiences, students will be given an extra section in the upcoming year to explain how the COVID-19 pandemic has affected them. It is advised to be thoughtful in responding to this prompt; if students have an absence of standardized test scores, extracurricular activities, or AP classes, this would be the section to explain to the admissions office.
It is important to note, however, that when responding to the new essay prompt, it is best only to craft an answer that adds tangible substance to one's application. In other words, students should try to avoid generic answers about how the pandemic has affected their daily routine. As director of undergraduate admissions at Tulane University Jeff Schiffman stated, COVID fatigue is real. "I'll use myself as an example. I've had to cancel my wedding four times," he exclaimed. "Everyone is going through something, so I don't think [admissions] folks are going to want to relive it over and over and over again with 45,000 applications" (NPR).
Using this section wisely can help colleges understand how students made the most out of their situations, despite the pandemic. It may also relieve pressure off the student, who has another space to fill in any of the missing holes found in the rest of their application.
Advice For The College Admissions Process
The college admissions process, a source of stress to students all across the globe, has been hindered significantly by the pandemic. Regardless, colleges are finding a way to accommodate student's academic and personal situations in their holistic decision making.
"By most accounts, students' recommendations and their essays will get a closer read. And admissions officers will pore over transcripts looking for academic rigor and any patterns that help bear out a student's academic profile. They'll be working overtime trying to triangulate each piece of the application they have, to make up for what they don't" (NPR).
In the meantime, students must not stress about the fate of their application or the parts that are out of their control. In a time of world sickness, civil unrest, and political upheaval, the college application process is being refined as it never has before, and it is yet another thing that is beyond the reach of many students.
Those who continue working hard in school, earning good grades in their classes, demonstrating their outside interests in whatever way they can, and spending careful time formulating their essays will be rewarded at the end of the process. Colleges will be understanding of student circumstances in all aspects of the application, and in a world full of uncertainty, health and family should come before college admissions.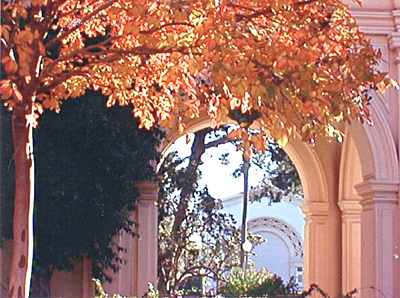 © Rachel B., San Diego, CA