To The Love of My Life
November 26, 2019
I've never loved anyone until now.
You've opened my eyes to a whole new world
When I see you, all I can think is wow!
Now all around your finger, I am twirled

You brought me to life, and now I can breathe
We've come so far, please don't give up on me
That would hurt so much, you would not believe
You and me should be for eternity

As I prepare to promise that "I do"
I speak with butterflies in my stomach
I don't need cars or jets when I have you,
As we say "I do" I stop being sick

Into infinity you have my heart.
And now we never have to be apart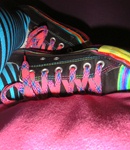 © Melanie R., Milpitas, CA