Keep on Going
May 3, 2013
Summary:
"A few minutes pass. I hear other pairs talking to each other, laughing, introducing themselves for the first time all semester; arguing.

Finally I do that awkward coughing thing that means it's been too quiet for too long.

He doesn't even look up, instead just flipping the pages in his book back and forth, back and forth, shaking his head like he can't believe his eyes.
Frustrated, I take out my pencil and jab him in the arm with it. "Hello?"

Douglas looks up at me; all slow, and carefully places his pencil in the exact center of his desk. He folds his arms....

I open my book. I get out two sheets of (college ruled!) lined paper. I sharpen my pencil.
"Good," says Douglas. "Now, let's begin. Derivatives aren't hard as long as you follow the formula."

Over the next 45 minutes, I learn a few things about Douglas. One, he is a pretty good teacher. Two, he is obsessed with perfection. I have a hard time swallowing his lust for flawlessness, especially since I grew up under my mother's freelancing wing. It's like, to Douglas, impeccable is not a fantasy. It's totally attainable, as long as you prepare for it in the right way, if you follow all the rules. Open your book. Two sheets of lined paper, college ruled. Sharpen your pencil. Follow the formula.

But for some unexplainable reason, after Douglas makes math understandable to me, I want to attain perfection, too."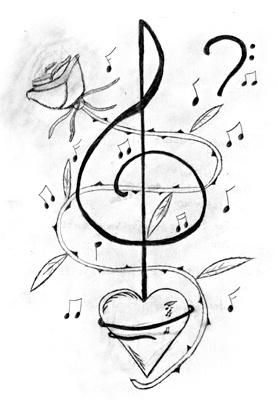 Christal M.
Keep on Going