Naughty Children
November 15, 2016
I woke up to the sweet smell of honey and powdered sugar. My mouth was watering to the delicious smell as I walked downstairs. When I reached downstairs, I realized that the sweet smell was waffles.  My mom left to go to the gym, my dad left to go get the groceries, and my grandparents were still sleeping.  When I finished my breakfast, I felt bored, so I woke my brother, Neel, up. I asked him if he could hide the candy, so I could seek it. He said,"Okay" and hid the candy.  It was a competition between the two of us.
While he was eating breakfast, I started to look for the candy.  I looked everywhere, and I still couldn't find it.  I looked in the drawers, cabinets, and all of the nooks and crannies of the house. I still couldn't find it. My brother said," It is somewhere downstairs." I asked him if he could be more specific, but he just shook his head no and kept eating. I was starting to get frustrated. When I got frustrated, I started to get hot and sweaty. In my head, I started to think that I should give up. I was about to give up, but then I spotted something. It looked a lot like a piece of candy, so I ran there and the wrapper was under a piece of paper.
When I pulled the piece of paper, I didn't realize that there was a vase on top of it. The flower vase was a beautiful white vase that my parents bought for me on my 6th birthday. Inside there was a fake white flower. As I was pulling the paper the piece of paper from underneath the vase, I could hear my brother saying," NOOOOOOOO! Niti don't!", but I ignored my brother. I pulled it and then the vase started to fall and fall and fall and bam! It hit me on the head. It shocked me and I waited few seconds to come back to my senses. As soon as three seconds passed, I could feel the pain on my head. It really hurt. I could feel my face getting red and hot and the tears were starting to rush into my eyes.  I started crying. My brother felt very bad about that and started to panic. He ran to the freezer and got out a pack of frozen peas. He put it on my head and carried me to the coach. I was still crying, so he started to make a funny skit. I stopped crying and tried to keep myself from smiling. In the end, I couldn't help myself and bursted out laughing. My mom came home and saw the mess that we made and we explained to her what happened. She was mad, but then after a while she got over it and cleaned up the mess we made. Now we have a story in our family. Whenever I do something silly, my parents blame it on the vase because they think the vase has affected my brain somehow. That is the reason why I make so many silly mistakes.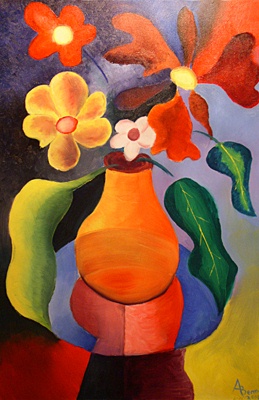 © Alexander B, Highland Park, IL